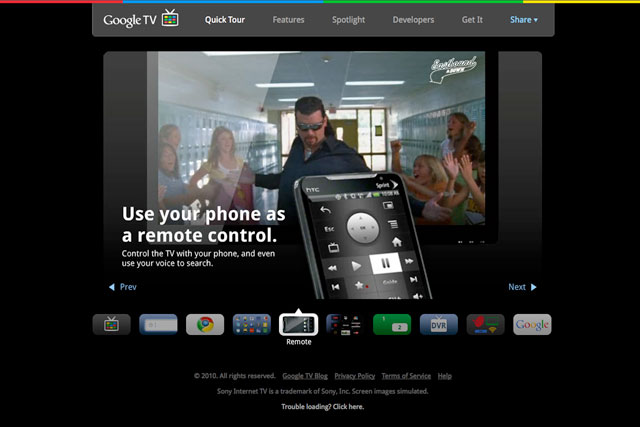 At this time of year, it's not unusual to bump into people freshly returned from the Consumer Electronics Show, held each January at the Las Vegas Convention Center. If they are all wide-eyed and raving, beware: an awkwardness is sure to follow. Because they'll tell you that they've seen the future of television - and then they'll look all hurt and disappointed if you sigh.
We've now been on the verge of the TV revolution - the convergence of the internet and the widescreen television, specifically in the living room - for more years than it's healthy to recall. And you don't exactly have to be a rocket scientist to work out why wave after wave of this particular revolution has washed up dead on arrival.
Vegas is Vegas, though. There's a powerful evangelical element to this event. It's tailor-made for bullshitters - and as bullshitters go, some of these people are at the very top of their game.
This year, however, we are assured that we really are on the verge of something special. For instance, some of the "technology" actually works under the battlefield conditions you can expect in your average sitting room. And, equally importantly, it's becoming affordable for many of us.
This year, in short, we might really see the arrival of the smart TV. This dovetails with the assertion made in December last year by Google's executive chairman, Eric Schmidt, that, by the middle of this year, Google TV capability, powered by an Android-Chrome hybrid, will be incorporated as standard in all new TVs.
Yes, that doesn't mean penetration will be all that impressive by the end of 2012. But at least he'll have something of a credible bridgehead. The question now is whether the commercial side of the media industry is ready.
James Harris, the head of digital, EMEA, at UM, says the answer is probably no at this stage. There will be a period, he predicts, when it will be unclear who should be driving this - TV teams or their digital counterparts. "These issues are already apparent and were openly being discussed by media owners at CES," he reveals.
And he thinks there will be similar territorial confusion within creative agencies. He explains: "History tells us that traditional creative agencies will find it hard to adapt quickly and I think, as a result, progress could be painful. Certainly, I expect to see consumer take-up outpacing advertising developments this year - with the exception of IPG agencies, of course."
And VivaKi agencies too, if you believe Marco Bertozzi, the managing director, EMEA, for VivaKi Nerve Center. He certainly agrees that the challenge will be to blur the boundaries between an agency's TV teams and its digital and innovations people.
He adds: "The key is not to let those silos stop innovation. If you are the client, you don't care about silos - you want solutions. That said, your client base will determine how much you can or will make of this new technology. Some clients are, by their nature, either cautious or are doggedly tied to ROI. Often, these new areas of innovation don't deliver that straight out of the blocks."
Bertozzi also wonders whether consumer adoption will be as rapid as some predict. And that's also a theme pursued by Anjali Ramachandran, the head of innovation at PHD. Either way, though, she argues that agencies can't afford to be complacent. She states: "Samsung seems to be ahead of the rest, with a model that has face-recognition technology that can customise the settings of the TV, depending on who's in front of the set. That can become a hub for advertisers. There is an explosion of apps for smart TVs as a result, including apps that work across multiple devices, notably tablets, and companion apps such as Zeebox in the UK. They all offer immense opportunities for advertising. It would be dangerous for media agencies to sit back and assume that they have time to explore the opportunities offered by smart TVs."
Jason Dormieux, the chief operating officer at MEC Interaction, agrees. He concludes: "We've reorganised our activation teams - we now have an audiovisual team as opposed to a TV team. We did that last year, not just to reflect the growth in importance of video-on-demand but also to reflect the notion that smart TV was coming at some stage. We've seen that happening on the media owner side too, with their digital and offline teams now more fully integrated. So I think there's evidence that people are already doing what they need to do in order to leverage the smart TV development."
NO - James Harris, head of digital, EMEA, UM
"I see it as a similar issue to the early days of digital TV, where the ability to take advantage was limited by questions within media agencies as to whether this is a digitalor broadcast-driven thing."
YES - Marco Bertozzi, MD, EMEA, VivaKi Nerve Center
"I believe agencies are good at making the most of these opportunities and I know VivaKi agencies are. We were the first to advertise through connected TVs on both sides of the Atlantic and the first to advertise on the Xbox in the US."
MAYBE - Anjali Ramachandran, head of innovation, PHD
"While it's true that smart TVs will take entertainment to the next level, it is important to pay attention to adoption rates. To achieve scale, smart TVs will need to be as simple as possible to use, and I don't think we are quite there yet."
YES - Jason Dormieux, chief operating officer, MEC Interaction
"It's my feeling, having been at CES, that this won't really happen until 2013 in the UK - the Sony Bravia with Google TV won't be shipping until June in the States. So I'd argue we are prepared."