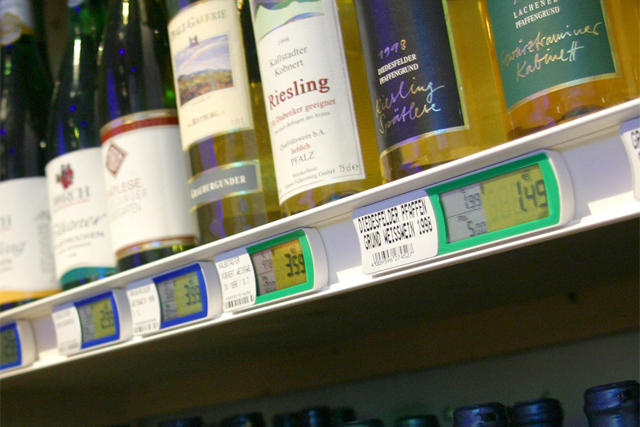 Gone are the days of retailers only being able to actively manage the price of a small number of products once a week. Algorithmic pricing and real-time competitive pricing data allows the changing of product prices on the fly.
Amazon is at the forefront of such "real-time pricing" initiatives, which have traditionally been the preserve of online-only retailers.
However, brick-and-mortar retailers in the US are showing their UK counterparts the limitless possibilities when it comes to dynamic pricing.
Independent consumer electronics retailer Abt Electronics pipes competitive pricing data gathered by Dynamite Data into its point-of-sale systems to allow staff to negotiate prices at the point-of-sale, according to Dynamite Data chief executive Diana Schulz.
Sainsbury's claims real-time pricing would result in "chaos", while Asda says such a strategy would be a "nightmare"
Meanwhile, another one of Dynamite Data's un-named clients uses electronic shelf labels and re-prices every product in their stores each morning based on the prices of its rivals.
The ability to change prices dynamically is not simply the preserve of all-powerful brands such as Walmart or Target either.
Schulz explained that her company has "seen these types of technologies in both large and mid-sized retailers" despite the "investment in technology and competitive data that is typically needed".

Commercial sensitivities
Back in the UK things are not quite as close to a Minority Report-style personalised shopping experience.
Even online-only specialists Shop Direct and Ocado claim they do not engage in real-time pricing, while those that do heavily use real-time data to adapt their prices such as the airline brands are reluctant to discuss the issues.
EasyJet declined to comment when contacted because of commercial sensitivities around discussing pricing-related issues.

Grocers Tesco, Asda and Sainsbury's have all claimed they do not engage in real-time pricing, with the latter two both citing the logistical difficulties in aligning such a strategy across their physical stores and online presence.
A Sainsbury's spokesman claims real-time pricing would result in "chaos", while an Asda spokeswoman saying such a strategy would be a "nightmare".
Yet, despite such a negative perspective from UK brands, experts are confident real-time pricing will arrive on these shores sooner or later.

Simon Spyer, a partner of VCCP data arm Conduit who began his career working on the Sainsbury's Nectar business, believes the UK will begin to see "more and more" of matching rivals' prices dynamically, particularly in the grocery and electrical sectors.
He explained that real-time pricing is likely to affect "anything where the product is largely commoditised" and in instances where the only way retailers can differentiate that product is by "being really keen on price".

Electronic labels
As it stands the major barrier for implementing "real-time pricing" in-store is changing the prices to match the online price, a hurdle that could be removed by the electronic shelf labels being pioneered in the US.
Schemes like Tesco Price Promise and Asda Price Guarantee already use real-time data to 'price match'
In the UK various retailers have dipped their toes into the water when it comes to electronic shelf-labelling including a Nisa Local store in Shrewsbury that launched a trial in August last year to carry out automatic pricing and timed promotional updates, alongside QR codes and meal ideals.
Tesco has also experimented with electronic labelling on various occasions with trials in 2006 and 2008, but the retail giant has yet to combine real-time pricing with its electronic labels.

Spyer claims "the capability is definitely there both online and offline – it is whether there is a business rationale for investing in it".
However, with major UK supermarkets lacking a pressing reason to implement real-time pricing, that investment may be slow in arriving, argues Kaye Coleman, the founder of price consultancy Ripe Strategic.
Coleman explains: "The supermarkets already do price matching – it is not so sophisticated but price matching is already happening".
Schemes including the Tesco Price Promise, the Asda Price Guarantee and the Sainsbury's Brand Match currently use real-time data to "price match" by offering money off the next shop.
A cynic could argue the supermarkets should knock money off at the till rather than relying on customers to redeem their vouchers at the next shop, but such an action could hit the companies' bottom line.

Mobile sophistication
The growing sophistication of mobile marketing is also likely to revolutionise the way brands approach their price matching.
"If you can come up with a value proposition where I check-in [on my mobile] when I walk through the store for the first time and that presents me with a personalised experience based on my purchase history then I could see the benefit for a customer and a retailer," said Spyer.
The trick for retailers is persuading customers to adopt such behaviour, but the offer of being delivered ever-changing personalised price offers and messages in-store is a compelling proposition.
Personalisation is already a priority for retailers. Sainsbury's uses anonymised shopping data gathered from the Nectar card to personalise offers.
The levels of personalisation offered by Sainsbury's are increasingly complex. If a female customer buys folic acid they will be sent promotions on other pregnancy-related supplements during the pregnancy period and offers on nappies further down the line.
UK retailers are sure to keep a close eye on developments over the Atlantic, with Schulz claiming she knows of clients that are piloting technologies that enable in-store personalised discounts.
The challenges on the high-street mean there will inevitably be more casualties, but real-time pricing does not have to be the sole preserve of online-only retailers.
Innovative ways of manipulating real-time data could be the shot in the arm the high-street retail industry so desperately needs.