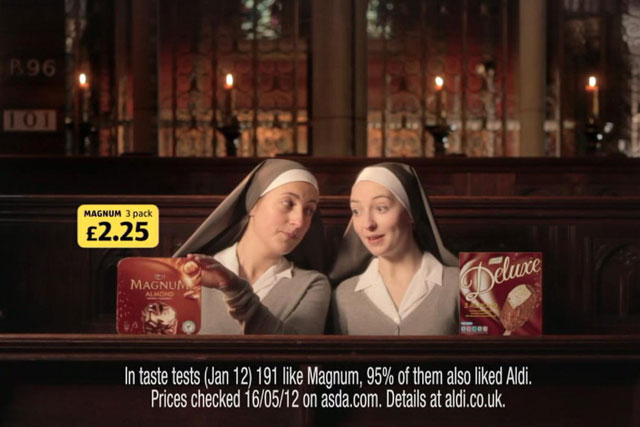 The most-liked TV ad was Comparethemarket.com's "circus" by VCCP, with a score that suggests it was liked twice as much as the average new TV ad in June.
Bartle Bogle Hegarty's "home advantage" spot for British Airways, featuring a plane apparently travelling by road to the Olympic Stadium, was the most-discussed ad online, accounting for close to 10 per cent of all online discussions about new TV commercials.
The "most-remembered" score is the percentage of viewers who can recall within 24 hours the storyline of an ad. These scores are indexed against a mean score for all new ads, with 100 representing the mean. The "most-liked" score is the percentage of viewers who liked a spot indexed against the mean score of 100.
Reality check June 2012
Most-remembered ads
Most-liked ads
Most-talked-about ads online
%
1
Aldi
155
1
Compare
the
market
200
1
British
Airways
9.69
'runs'
'circus'
'home
advantage'
McCann Manchester
VCCP
Bartle Bogle Hegarty
2
Gaviscon
150
2
Aldi
158
2
Vauxhall
4.09
'train'
'nuns'
'supporting a nation'
Euro RSCG London
McCann Manchester
McCann Birmingham
3
Comparethemarket
145
2
Samsung
158
3
Irn-Bru
3.55
'circus'
'it understands you'
'baby'
VCCP
Cheil Worldwide
The Leith
Agency
4
B&Q
139
4
Kellogg Special K
137
4
Gocompare.
com
2.59
'paint'
'real women'
'enough'
McCann London
Leo Burnett
Dare
4
Vodafone
139
5
Richard Ham
126
5
Audi
1.77
'freebee rewardz'
'as nature
intended'
'quick to
react'
RKCR/Y&R
Quiet Storm
Bartle
Bogle
Hegarty