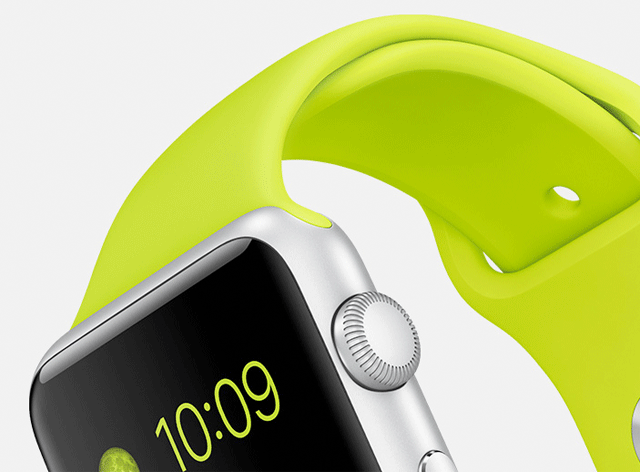 Last week I wrote a post containing some predictions of what Apple would be announcing yesterday. A key theme of that post was that Apple's wearable launch would not (should not) be called iWatch and would have little to do with telling the time.
Well, they've launched the Apple Watch, it looks like a watch, and the first thing they tell us about it is that it tells the time with incredible accuracy. On this part I was disappointingly incorrect, but got the rest right.
I haven't worn a watch for over a decade. My phone replaced it's functional role then. Will I be wearing an Apple Watch? Well no, not what was launched yesterday.
However, I believe that by launch time I will want one, badly. Here's why:
Think about broader and more relevant context that Apple Watch may enable – the combinations of location, behaviour, emotional reactions.
The need for secrecy has taken a lot away from the potential of this device, and just a few months to launch will expand it's power to match it's potential dramatically.
When the iPhone was originally launched it too was a closed system with a home screen of standard apps.
A year later with an iOS SDK and the App Store and the possibilities of the iPhone expanded to amazing.
The same will now happen with the Apple Watch. We have seen pretty standard applications that treat this Apple Watch as principally an extension of the iPhone (which yes, you need to have nearby for it to work).
The apps we've seen so far are "secondary screen" versions of the core apps – what will be exciting will be the Apple Watch optimised apps that take advantage of the form factor and the sensors.
I was surprised that there was a relatively cursory overview of the health aspects of the Apple Watch, less in fact that the description of accurate timekeeping and the array of available watch faces.
The launch of 'HealthKit' in iOS8 suggested there would be a great focus on this. This will be a big focus of subsequent launches between now and rollout – I'd expect apps from Nike, MyFitnessPal and other leading wellness offerings that make use of the sensors and context data.
One of the new sensors measures your heartbeat – useful for activity tracking – but in this case also the source for the 'Samsung moment' in the launch presentation. I call it a "Samsung moment" because Samsung continue to launch technology because they can, not because it works or because it is relevant.
Such examples include recent eye-tracking on mobile devices, waving your hand above the screen instead of swiping and just last week the bevelled screen of the Samsung Galaxy Note Edge.
For Apple this Samsung moment was the ability to send someone else your heartbeat. I loved the haptics and the idea behind the further blurring of humanity and technology. The ability to literally poke someone, to feel a nudge from afar and a little doodle to go with it.
Overall there were 3 surprises for me:
The dependence on the iPhone. It will become clearer in the coming days how this dependence works and how much of an extension of the iPhone the Watch is – it was however, noted pretty clearly yesterday. Hopefully, there is an uncoupled mode that while not having access to the iPhone for network will still have some functionality. No point going for a run with your iPhone and your Apple Watch.
Power. They showed us how to charge with an elegant Magsafe induction solution – but no mention of battery life. This was an expected criticism going in and clearly something they are still grappling with before making claims.
HealthKit. The applications they showed are what my FitBit or FuelBand both do – there must be more and I was surprised more was not yet shared.
As for the physical tech, I find the Apple Watch to be an underwhelming lozenge. I think there has been a little too much design respect for its watch lineage and the need for all things Apple to be a rounded rectangle.
The iPhone 6 and 6 Plus are both beautiful and represent predictable iterations of innovation. So the hardware was all a bit meh.
When you look at the Apple share price during the announcement you can see the big news. There was one large spike before it decayed again during the Apple Watch news.
That came with the announcement of Apple Pay, the secure NFC mobile solution for payments. This is the bigger news today, the potential for Apple to disrupt personal banking.
It starts with payments, just like iTunes started with music. Then, after Apple has earned your trust, and your behaviours and your credit card numbers, this will be opened up to much more.
Apple was at pains to make the point about security in the launch, especially after this past week. It did not refer to iCloud in the presentation yesterday.
In our hunger for convenience and value, privacy will rebalance with the power of context – the ability to serve people (with a little tap on their Apple Watch perhaps) with a branded experience that is right for the context – the place, the person, the moment.
What does this all mean for your brand?
The growing power of content. Forget "programmatic buying", (which gets my vote for concept that needs an Apple-esque rebrand) which I based on content behaviours and think about broader and more relevant context that Apple Watch may enable – the combinations of location, behaviour, emotional reactions.
Separation of shopping and buying. With Apple's low power Bluetooth iBeacon technology in conjunction with these devices and Apple Pay you will be able to order on your mobile what you are looking at now for the best available price.
Internet of Things. I expect that a function yet to be revealed in this Apple Watch, or certainly soon to come, will be a security function that ensures it is the user wearing the Watch – through some sort of sensor array. By removing the need for a fingerprint there are many interesting applications of the Apple Watch to the internet of things – home security, car ignition, lighting and heating your home as you move around it.
For now though it looks and acts more like a watch. This gives it a point of reference that may ease adoption.
For me though it's the back of the Apple Watch this is more interesting than the front and the potential this brings to understanding ourselves, to feeling close to others and to even more naturally using technology to enhance our lives.