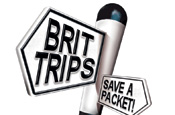 No surprises there. During the last recession in 1991, coupon firm Valassis reported a 17% rise in the volume of coupons redeemed compared with 1990.
However, this time around, more consumers than ever are redeeming and entering promotions online. The latest figures from Nielsen Online show that those websites tapping into consumer concerns about the economy by giving opportunities to save money are the fastest-growing.
This includes portals for using promotional codes and e-vouchers for online shopping discounts, such as MyVouchercodes.co.uk.
It was Walkers Crisps, however, which claimed Nielsen's number one spot in June, with its web traffic figures growing by 2575%, as people visited its 'Brit Trip' site in droves to take advantage of the snack brands' on-pack offer of discounts on days out and holidays (see case study).
'When times get tough, promotions benefit, as brands take marketing spend from above-the-line activity to below-the-line to get instant results,' says Graham Howarth, director of sales promotion at integrated marketing communications agency P&MM. 'What's interesting, however, is that the credit crunch is not just about consumers wanting greater value for money. It is also driving audiences to look further for rewards that create the feel-good factor, or to replace goods and items they might have bought previously with their disposable income.'
P&MM has run value-added online and mobile promotions with Lipton Ice Tea, offering 'Ice Cool' holidays and breaks to global destinations such as Sri Lanka, Sweden and Santa Claus' Village in Lapland.
Similarly, Gillette recently ran a promotion with Boots offering users of its men's shaving brand Fusion the chance to win a range of sporting prizes, including one of two Maserati GranSports cars.
Meanwhile, Pot Noodle has launched an on-pack promotion developed by Billington Cartmell, where consumers can text in or visit a website to win a limited-edition spinning fork.
'This is about rewarding our loyal customers, and driving brand awareness,' says Pot Noodle's marketing manager, Cheryl Calverley. 'We're focused on developing activity on Pot Noodle that our core audience will love and want to buy into, whether there is a credit crunch or "simply time for lunch".'
As the recession bites, digital campaigns are also offering brands and retailers a far greater degree of flexibility compared with traditional point-of-sale or direct-mail promotions. 'In times of down-turn, managed websites allow fast and cheap changes to be made to content and pricing. This means brands and retailers can monitor the market forces day by day, and alter their offering accordingly,' says Julien Reiter, managing director of sales promotion specialist Positive Thinking.
Likewise, another level of accountability is being added to the mix. 'Because the location and timing of people's responses can be monitored using mobile channels, it enables brands to scrutinise the performance of other media activity, such as TV advertising, and respond,' says Robert Thurner, commercial director of mobile marketing agency Incentivated.
Moreover, digital channels are enabling brands to build deeper relationships with consumers. Earlier this year Doritos ran a campaign, which invited consumers to create and upload their own TV ads, which culminated with the winning submission being beamed into space, ostensibly toward potential extraterrestrial lifeforms.
Meanwhile, this summer, Incentivated worked with Strongbow to launch an SMS promotion offering customers the chance to win free pints of cider. This also included a viral social media element, in which users could send virtual pints to friends.
However, there are control issues in using social tactics and word-of-mouth to drive response rates. Two years ago Threshers publicly claimed it was forced to sell high volumes of wine and champagne at discount prices after an online promotion aimed only at key suppliers and members of staff ultimately ended up emailed to shoppers across the UK.
In addition, while economic conditions make it tempting to focus promotions on price, research by Millward Brown illustrates that price-based motivations can actually damage the brand.
'Our brand equity database shows that on average, only 10% of consumers are exclusively motivated by price,' says the firm's global head of brand knowledge, Dominic Twose. 'Even if the effect of a promotion doubles during a recession, the impact of these price-driven consumers will be relatively small, and they will probably not be inclined to brand loyalty.'
As inflation on production and manufacturing costs continues to rise, and the retail price-bashing conducted by the supermarket chains over the past few years remains in place, it will be interesting to see where digital promotions go next.
'There is only so far people can go with price,' says Reiter. 'And when they've reached rock bottom, brands are going to have to work with retailers to find other forms of promotional mechanics to prevent meltdown in the value chain.'
Walkers Brit Trips
In April, Walkers launched a 12-week on-pack promotion offering consumers savings off 'great British days out'.
Created by sales promotion specialist The Big Kick, this was designed to reinforce Walkers' standing as a British icon, flag up its switch to using only UK-grown potatoes and drive loyalty.
Consumers could collect points toward more than 14,000 trips, with rewards ranging from half-price admission to theme parks to discounts at holiday parks and two-for-one meals.
'We wanted to put online at the heart of our marketing plans so decided to use a fully web-based promotional mechanic,' says Walkers marketing manager Miranda Samble. This exclusively web-based first for the snack brand was delivered using a dedicated Brit Trips site developed by digital agency Jigsaw.
Having collected points from pack purchases, participants could register these - via the web or by text message - and exchange them for download-able vouchers. Alternatively, for rewards requiring advance-booking, consumers are pushed through to Brit Trip-branded partner microsites to redeem the points.
This activity was supported by point-of-sale material, TV, radio and online advertising and a tie-in with the Daily Mirror.
As a result, almost 600,000 people took part, banking 36m points. 'Once online, 60% of those participating in Brit Trips opted in to our database, which is a fantastic uptake and has provided us with excellent opportunities for developing a two-way dialogue with our consumers,' says Sambles.
King of Shaves Battle Bus
In June, King of Shaves launched its first system razor, the Azor, which it claims shaves closer, lasts longer and costs less than market leader Gillette's bestselling models.
To provide a sampling mechanism, the men's-grooming brand approached mobile specialist Incentivated, which linked the launch to a week-long sponsorship on London's Capital Radio and the station's Help a London Child charity appeal.
The campaign kicked off with an outdoor broadcast of Capital's breakfast show with Johnny Vaughan and Lisa Snowdon at the King of Shaves' 'Battle Bus', where members of the public were invited to volunteer for free head or facial shaves. Donations were solicited from audience members. Listeners were also encouraged to text KING to receive a free sample of the Azor razor and a packet of shaving gel.
'We chose texts, as the instant reward is very compelling when you are trying to encourage consumer trial. The simplicity for the consumer, taking less than 10 seconds per text, makes it easier than logging on for emails,' says the brand's corporate commercial director, Tim Wright.
In just one week, King of Shaves received 13,000 text requests for samples and raised more than £30,000 for the Capital Radio appeal. The brand has since used the data captured to make follow-up texts encouraging participants to buy replacement blades.