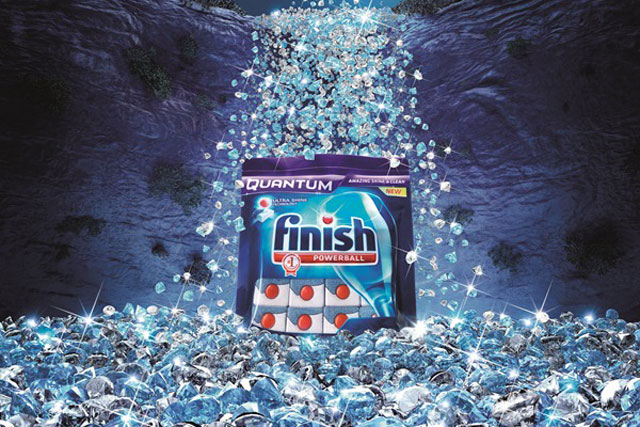 The campaign, created by Euro RSCG, launches on Tuesday (28 February) and features a TV ad supported by press, digital, radio, sampling and point of sale activity.
The TV ad uses computer animation to create a "magical forest", which RB claims is inspired by blockbuster films 'Avatar' and the 'Harry Potter' series. The ad aims to put consumers in a "fantasy world filled with diamonds and shine", as opposed to the "everyday domestic kitchen setting".
It shows a forest of diamonds becoming energised by a floating " powerball", a feature of the Finish Quantum product, as it flies through the forest and attracts blue and white diamonds from the plants and trees it passes.
The diamonds settle around the powerball to eventually create the new Quantum dishwasher tablet. The tablet travels to a murky and cloudy part of the forest, where it explodes to create a "dazzling shine" to all the spotted glasses and water marked cutlery.
The new product, which launched at the end of 2011, is coated in a soluble wrapper that dissolves during the dishwasher cycle.
Stefan Gaa, marketing director at RB UK, claimed that the new campaign "captures the innovation and creativity at the heart of the brand."
RB said the new ad had been tested in the top 15% of Millward Brown, the global brand research agency's testing portfolio, and is "set to be one of the most memorable Finish ads ever".
Last month, RB launched its first campaign for Durex since acquiring the brand, focusing on its newest innovation for Durex, Performax Intense.
Follow Loulla-Mae Eleftheriou-Smith on Twitter @LoullaMae_ES