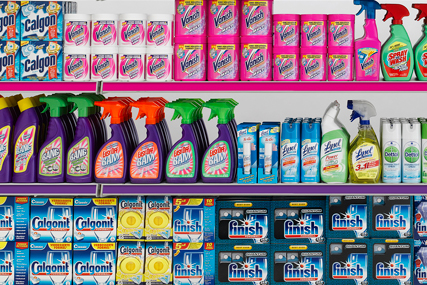 Overall group revenues were recorded at £2.061bn at constant exchange rates in the quarter.
The FMCG giant, which last week purchased SSL, the maker of Durex, for £2.54bn, reported a revenue dip in Europe of 1% to £1.752bn.
The group has suffered because of little sign of growth in Europe, which accounts for around 43% of total sales.
Across Europe, the group pinpointed that growth in its Dishwashing and Home Care division has "more than offset" the weakness in Fabric Care. Revenues in Health & Personal, which includes its Clearasil brand, was relatively flat.
Bart Brecht, chief executive officer, said: "Recikitt Benckiser's first half results (excluding RBP) were in line with our full years targets, with net revenue growth of 5% and operating profit growth of 10% (both at constant exchange).
"This performance benefited from excellent growth in developing markets, and the success of new Powerbrand products initiatives such as Lysol No Touch and Air Wick Aqua Mist.
"The total group delivered an even stronger result, with net revenue growth of 6% and net income growth of 18%, both at constant exchange."
RB is expected to finalise its deal with SSL, which also owns the Scholl footcare brands, by the end of the year. The deal, according to RB, will help its presence in Russian and China.