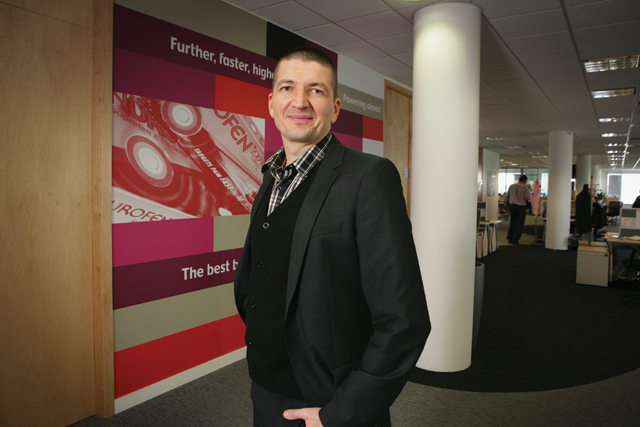 Sex has been much on Stefan Gaa's mind of late. Hardly surprising, perhaps, given that Reckitt Benckiser's UK marketing director now has Durex to add to his stable of brands.
Its arrival follows last year's £2.54 billion purchase by RB of SSL, the owner of Durex condoms as well as the Dr Scholl's footwear and footcare range.
The result has been the sexing up of several RB products - Dettol, Harpic, Air Wick and Cillit Bang among them - with others of somewhat more stimulating appeal.
Today, Gaa has to help plot the marketing strategies not only for some of the most familiar names found in every kitchen and bathroom cabinet, but also "intimate lube and massage gel" and a handy little gadget called Vibration that, according to the packaging, is "designed to bring up to 20 minutes of quivering pleasure".
Gaa's good vibrations result from the fact that Durex isn't only a brand that can be integrated well into new media but can help RB learn more about how the medium can be exploited by the company's other offerings that don't necessarily seem such a natural fit.
Unsurprisingly, Durex is the most popular of RB's websites, where visitors can discuss sexual matters and exchange ideas. "People are excited about sex and what Durex has to say about it," Gaa claims. There is also a new iPhone app offering sex tips and - in what brings a whole new dimension to mobile marketing - "games".
Smirking aside, Gaa is serious about new media's potential. "We still believe in the power of TV," he says. "Yet the digital space allows you to do a lot of things differently and have a stronger dialogue with your consumers. And we expect a lot of extra investment will go into new media, which will grow significantly in the coming years."
With RB now the UK's biggest over-the-counter manufacturer, Gaa sees potential for its patent remedy treatments, particularly because of what he calls the "strong search behaviour" by those looking for anything from a heartburn remedy to a cure for a runny nose.
Clearasil, RB's acne medication, reacts well to TV and online promotion because of the natural affinity of its young core market, as shown through its sponsorship of E4's Skins. Meanwhile, Lemsip has tied up with LoveFilm to capitalise on flu sufferers feeling sorry for themselves. Lemsip's Facebook page allows visitors to download a free movie to share with a friend.
In light of more consumer belt-tightening, RB can claim an impressive performance. With a reported annual UK adspend of more than £90 million at his disposal, Gaa cites the need for constant innovation as RB's biggest challenge in what is its second biggest market after North America.
"We must create products that not only excite consumers and make their lives easier but which surpass their expectations," he says. "Having done that, we need to identify the messages that resonate best with them and that draw them towards our brands."
Meanwhile, there's a need to preserve the integrity of RB's brands as promotions proliferate. "The current level of promotional activity isn't sustainable," Gaa warns.
Such strategies seem to have served RB well. The company could hardly have had a pair of more formidable rivals than Procter & Gamble and Unilever, and while its sales are no match for either of those leviathans, its operating margins are superior.
Why so? "We're just different," Gaa claims. "We respect P&G and Unilever because we'd be stupid not to. But we regard ourselves as a much leaner organisation, which allows us to move quicker and be more action-orientated."
Small wonder that RB, with its heavily cost-focused approach, has a reputation for driving hard bargains, including with agencies - although Gaa asks: "Why would an agency waste time with us if our account wasn't profitable?"
This philosophy also manifests itself in what some say is an unforgiving working environment that even the company's former chief executive compared to Marmite.
Gaa's 70-strong marketing department will not be to everybody's taste. Graduate trainees don't "shadow" more senior staff but are given proper roles.
"Of course we help them to swim," Gaa insists. "But we think that, by doing it this way, people swim better than they expected."
A high degree of zealotry would also seem essential. "What unites my team is a passion for their work," Gaa says. "When I hire them, I look for the passion in their eyes. If you're passionate, you're going to be successful in RB."
Most of that collective fanaticism goes to support the 19 power brands picked from some 60 that form RB's UK portfolio. All those chosen are either number one or two in their respective categories. And if they are not, there has to be a reasonable expectation that they can be turned into market leaders within a short space of time.
As a result, the power brands, which account for some 70 per cent of group sales, take up more management time and attract a disproportionate amount of marketing support as well as being high on the agenda in discussions with retailers. "We've learned how to market these brands successfully and we know what consumers want from them," Gaa declares.
So no pressure, then, on Euro RSCG, appointed as RB's global creative agency five years ago, or ZenithOptimedia, which handles the company's media assignment.
Gaa spends at least one afternoon per week at Euro RSCG, which he describes as "my favourite time of the week". And for the agency, perhaps, one of its most challenging periods.
He's certainly unequivocal about his demands. "I want ideas that build equity for our brand and to sell product," he says. "We've tested a lot of purely emotional advertising - but it just doesn't have the same effect on sales."
And while he talks of ideas that "will push us out of our comfort zone", he clearly doesn't want his agencies getting too comfortable either. "We're happy with them," he insists. "But healthy competition is always good. It keeps everybody on their toes."
THE GAA LOWDOWN
A break with tradition
The son of a Stuttgart lawyer, Stefan Gaa eschewed a long family tradition of public service - his grandfather was a member of the Southern German parliament - when he graduated with a degree in media and communication.
Shedding some light
His first job was with ERCO, an architectural lighting company whose clients included the Louvre and the Guggenheim Museum.
Passage to India
The adhesives brand UHU gave him his entree into the world of FMCG. He spent two years there before joining Reckitt Benckiser in 2000. A steady rise through the ranks resulted in him going to India - the world's biggest market for RB's Harpic brand - as the marketing director in 2006. After three years, he came back to Britain to take up the role of marketing director for the company's healthcare division. He took over the newly created role of UK marketing director when RB merged its healthcare and household divisions in July last year.
A tip for the top
Gaa's immediate ambition is to run one of RB's big brands globally, but could extend further. Would he like to go to the very top of the company? "Sure I would."