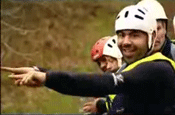 The spots see five BBC2 viewers wrenched from their day jobs to embark on an adventure in Wales.

To create footage for the campaign, Red Bee Media created a three-day "survive and connect" course, which took place in the Brecon Beacons mountain range in South-East Wales.

The team had Ray Mears teaching them how to build a campfire and Bill Oddie organising a birdwatching trip.

Participants were also given their own cameras to record video diaries, which have been spliced together to form the films.

Their footage, which appears online as well as across BBC2, is being used to promote a series of programmes including: Ray Mears Goes Walkabout, Across the Andes, Springwatch, Wild China and Tribal Wives.