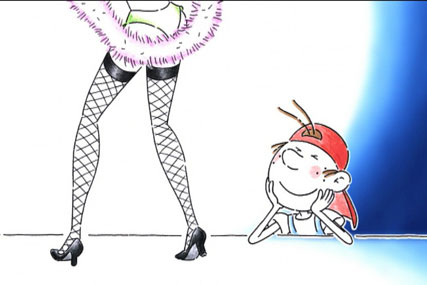 The animated ad, created by Kastner & Partners, was screened on Five's VoD service, Demand Five, during 'Neighbours', 'Home and Away' and 'The Mentalist'.
It showed a young boy feeding pigs Red Bull, before asking his mother if he can visit the local gentlemen's club.
Upon replying, "When pigs fly young man", the mother looks out of the kitchen window to see pigs flying outside. The ad then cuts to a shot of the boy watching a woman dressed in fishnet stockings dancing on a podium.
The viewer claimed the ad was irresponsible and offensive, because it showed the young child in a sexual situation.
Red Bull defended the ad, claiming it was intended to be fantastical and light-hearted, and was delivering the brand's 'Red Bull gives you wings' message through a humorous cartoon.
However, after receiving a direct complaint from a viewer, the soft drinks brand removed the ad from all VoD channels and has no plans to use the ad again.
The ASA agreed that the 'flying pigs' scenario depicted in the ad meant it was too whimsical to cause mental or moral harm to children and was unlikely to cause serious or widespread offence and, therefore, it decided no further action was necessary.