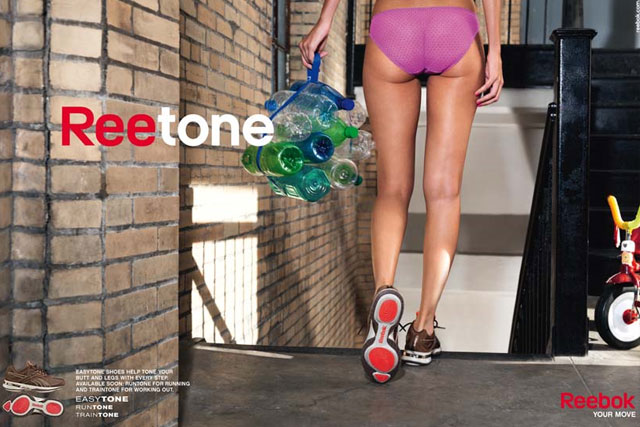 The Federal Trade Commission said that Reebok had made unsubstantiated claims in its advertising that its EasyTone walking shoes and RunTone running shoes toned and strengthened leg and bum muscles.
The FTC's complaint also alleged Reebok falsely claimed that the use of EasyTone footwear had been proved to lead to 28% more strength and tone in the buttock muscles, 11% more strength and tone in the hamstring muscles and 11% more strength and tone in the calf muscles, than regular walking shoes.
Reebok has been making its claims since early 2009 across TV, print and online marketing, according to the FTC.
As well as refunding consumers who bought the shoes, which retail from between $60 and $100 in the US, the FTC has barred Reebok from making these claims, along with any health or fitness-related claims, unless they are backed by scientific evidence.
David Vladeck, director of the FTC's Bureau of Consumer Protection, said: "The FTC wants national advertisers to understand that they must exercise some responsibility and ensure that their claims for fitness gear are supported by sound science."
Reebok posted the following statement on its website in response to the settlement.
"In order to avoid a protracted legal battle, Reebok has chosen to settle with the FTC. Settling does not mean we agreed with the FTC's allegations; we do not.
"We fully stand behind our EasyTone technology – the first shoe in the toning category inspired by balance-ball training.
"We have received overwhelmingly enthusiastic feedback from thousands of EasyTone customers, and we remain committed to the continued development of our EasyTone line of products.
"Our customers are our number one priority, and we will continue to deliver products that they trust and love."
In the UK Reebok's EasyTone trainers have also fallen foul of the Advertising Standards Authority.
The ASA banned an ad for the EasyTone Curve trainers in December last year, stating the brand gave insufficient evidence to back its claim they toned people's "legs and bum more than regular trainers".
Follow Sarah Shearman on Twitter @shearmans