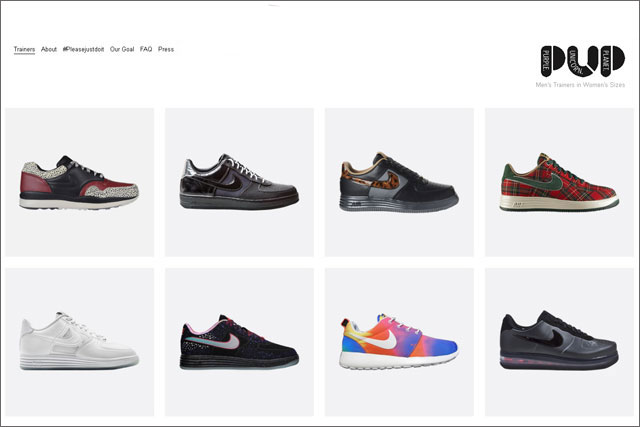 Producer Emily Hodgson and strategist Emilie Riis last month started a website, Purple Unicorn Planet, to highlight the fact that Nike's coolest-looking trainers were often not available in women's sizes. The pair also sent a letter to Nike outlining their requests.
The stunt caught the attention of the press – an article on Hodgson and Riis's campaign was featured in the Daily Mail – and now sportswear manufacturer Reebok has contacted the pair, inviting them to collaborate on its women's trainers.
Hodgson and Riis have been less impressed with Nike's response, however. The sports giant sent a representative to meet with the duo and subsequently issued a statement, but so far it has not promised to address its shortage of trainers made in women's sizes.
The statement from Nike read: "We have been in touch with Emily and Emilie and we find their campaign very interesting. We have always been and will continue to be supportive of feedback from our consumers. Nike is committed to our sneaker community and will continue to work on offering new and exciting products."
Speaking about Reebok's response, Hodgson said: "It's great to see someone step up. We've been delighted and amazed by the response we have received since we launched PUP. The fact that the people at Nike haven't yet given us the answers we're looking for is a disappointment."
Riis added: "This is a big opportunity and failing to see it means you will be missing out. We want to collaborate with a brand that is taking the shortage in the category seriously.
"It's great to see that we've struck a chord with so many women round the world who feel the same way we do, and we are driven by giving them a better trainer selection in smaller sizes.