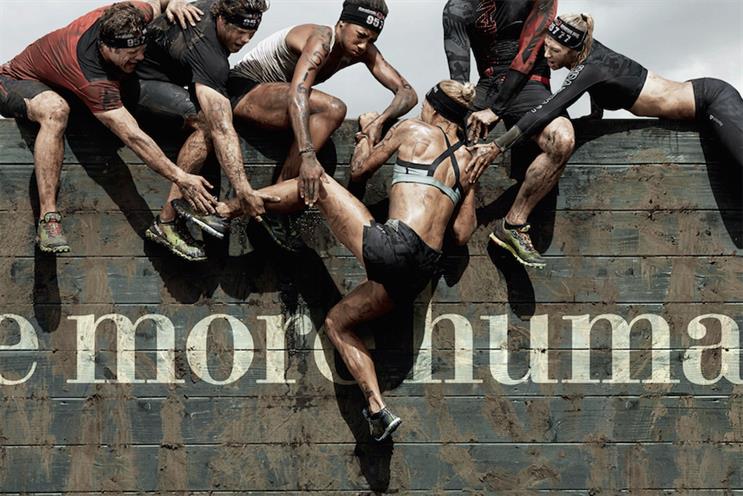 Reebok was known in its early days for step aerobics, being one of the first to manufacture the plastic gym step used in exercise classes.
As the brand expanded beyond fitness, it released the Reebok Pump trainer in 1989, cementing the brand's status among athletes. But it didn't hold its position, losing ground to rival Nike in the subsequent years.
Parent firm Adidas bought Reebok for €3.1bn in 2006, in a bid to boost its own US presence. Instead, the company oversaw declining sales at Reebok and has continually struggled to justify the acquisition.
At Adidas's annual general meeting this year, investors called on CEO Herbert Hainer to sell off Reebok. As the architect of the sale, Hainer rejected the idea.
Reebok may have bounced back. Adidas's latest quarter shows an improved performance overall, helped along by a massive injection of marketing budget in the US. But the brand lags behind rivals.
Sales for Reebok in Western Europe were up 17% year on year to €105m (£75m). By comparison, Nike made $1.3bn (£833m) in Western Europe over the same period across apparel, equipment and footwear.
Reebok has now parachuted a veteran US executive, Chris Froio, into the role of vice president for Western Europe to try and shatter "preconceived" notions about the brand across the region.
Watch: Marketing's interview with Chris Froio on what 'Be More Human' means
Froio was formerly based at Reebok's Boston headquarters as the company's vice president of training. He's now relocated to Adidas's home turf in Germany to oversee the brand's relaunch in Europe.
Froio has been tasked with bringing Reebok's 'Be More Human' brand campaign, its biggest in a decade, from the US to Europe. Launched at the Super Bowl, the gritty ad shows everyday people doing alternative sports.
Froio told Marketing: "We've got a lot of money invested in 'Be More Human'. We want to re-introduce Reebok's brand to consumers across Europe who have preconceived notions about what our brand is about.
"Over the years, we've become many things to many people. For example, in the UK, we're known as a football brand. We want people to know we have re-dedicated ourselves to fitness."
The valuable CrossFit partnership
To that end, Froio is promoting Reebok's long-held partnerships with training programme CrossFit, obstacle race Spartan, martial arts promoter UFC and fitness class provider Les Mills.
Reebok is the title sponsor and apparel, footwear and accessories provider for the CrossFit Games, which Froio says boosts the entire brand's sales.
He said: "It's focused on what you need when you're in the CrossFit box, and it gives us engineering that enables the whole Reebok range to be successful.
"The CrossFit relationship is very successful from a profitability point of view and also [in terms of] breaking through."
The partnership is so valuable that CrossFit banned Nike's MetCon 1 shoe from its games. Nike retaliated with an ad, featuring the tagline, "Don't ban our shoe, beat our shoe". It also released a "banned" limited edition of the MetCon 1 shoe in the US earlier this month.
Froio is confident that Reebok can hold its own against Nike's products, even if the numbers say otherwise.
He said: "We believe our product will differentiate us, and we'll differentiate through our brand of fitness.
"We are thinking about partnerships, and integrating into [fitness] communities. We're introducing consumers to new and exciting aspects of fitness."
A focus on women
One area where Froio claims Reebok is leading the charge is the women's market. Several sports marketing campaigns have focused specifically on women, particularly in Europe.
Sport England's 'This Girl Can' made waves in January, while Nike unveiled the 'Inner Thoughts' campaign three months later. In February, Puma's CEO Bjorn Gulden said his company was increasingly focused on new markets, saying "the future is female".
Froio noted that the brand's involved with Les Mills, which runs group exercise classes, has helped make Reebok female-friendly from its earliest days. He said most sports apparel firms are 70% focused on men, and just 30% on women "and that's at the high end".
He continued: "At Reebok, we are at 40% women's already, and we aim to make it 50% of our overall business. We have more initiatives around women's fitness coming."
Froio says Reebok will focus on getting its message out to a mass audience through above-the-line communications and some 150 sporting events through 2015.
There will be another major brand campaign in Germany from September, in an attempt to "win in the home court", Froio said.