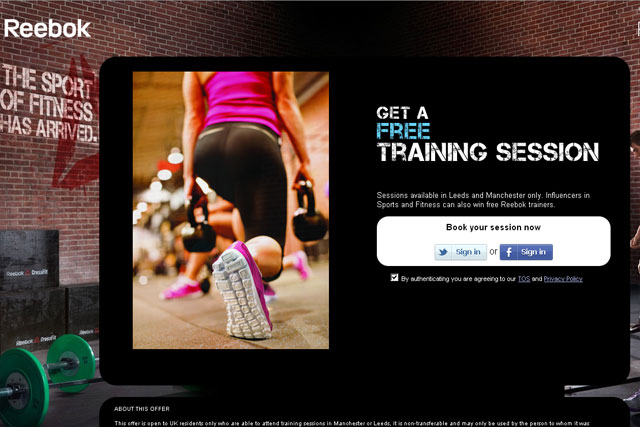 Reebok will identify 1,000 influential people who discuss fitness on social media platforms Facebook and Twitter, to give away free CrossFit personal training sessions.
The top 100 influencers will receive a free pair of Reebok RealFlex trainers.
Consumers can visit a dedicated part of PeerIndex's site (http://www.peerindex.com/vip/crossfit) where they can log into their Facebook and Twitter accounts to check if they are influential enough to qualify for a prize.
Reebok aims to drive positive brand association and traffic to the microsite through the discussion generated on social media.
The activity is part of Reebok's partnership with CrossFit and supporting brand campaign, which aims to change the way that people think about fitness.
Mark Allin, digital marketing manager, Reebok, said: "CrossFit is a program that utilises elite fitness standards but scales to weights and reps to meet the needs of any and all individuals, so we're keen to introduce it to as many of the fitness enthusiasts and novices in the UK as possible
"This isn't just about reaching those individual influencers – we're asking them to bring a friend along to their training session and we know that they'll want to share their thoughts and experience on Twitter, Facebook or wherever when they're done."
Earlier today Reebok announced a tie up with broadcaster Eurosport to produce and air a new show to document the CrossFit Fitness Championships, which is sponsored by the sports brand.
Follow Loulla-Mae Eleftheriou-Smith on Twitter @LoullaMae_ES