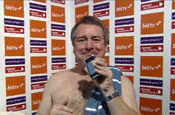 The campaign includes four 30-second TV ads and a radio campaign.
The TV ads were directed by Jonny Campbell, whose credits include Ashes to Ashes and Shameless, and play on the concept of post-win interviews with sports stars.
They feature a series of customers sharing their excitement at getting a bargain, with the strapline: "Proof every buyer wins with Bid TV."
Bid TV is one of the shopping channels of Sit-up Ltd, part of the Virgin Media Group.
Steve Hart, the head of marketing and PR of Sit-up channels, said: "We were keen to bring the Bid TV experience to life and capture the excitement of making a purchase.
"The ad aims to encourage those unfamiliar with the channel to give it a try and get in on the action."
The radio campaign, also launching today, features Stuart Hall, the former presenter of the 70s show It's a Knockout.
Mediaedge:cia handled the media planning.