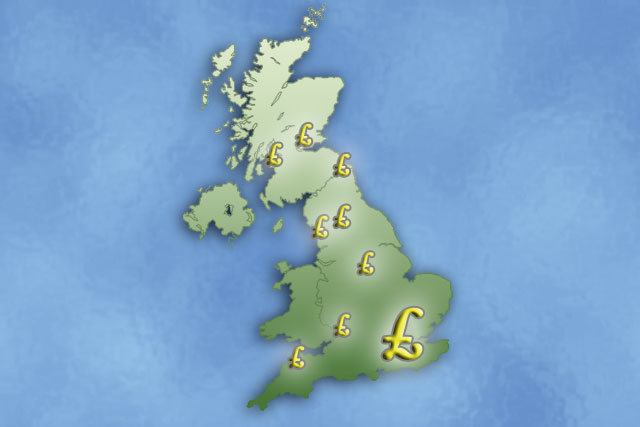 In the choppy waters of downturn Britain, the trawl for new business from London-based media agencies seems to have taken a sinister bent of late, with those higher up in the food chain increasingly looking to more distant regional waters to bring in their haul.
Sure, the attempt at global tie-ups of mammoth media accounts is still ongoing, and always will be.
However, a turn towards the regional shoals is now being unveiled, and it's not good news for the regional agency that always provided that "personal service" and was often reliant on one, or possibly a couple of clients to pay the monthly wage bill, now that the big fish have decided to start eating their lunch in the regions outside the capital.
Activity in regional agencies has stepped up recently, with the acquisition of the regional agency MediaVest by Aegis expected to be completed imminently. The agency is currently partially owned (19.9%) by Publicis Groupe, which owns the media agencies Starcom MediaVest and ZenithOptimedia, and is expected to sell its stake.
Various reasons will be given for the acquisition of such a prominent regional gem, but one thing is glaringly obvious – before news of the prospective purchase leaked out, Aegis Group agency Carat announced it had picked up the £12m regional business for supermarket chain Asda, to add to the business it already has with the retailer.
It is understood that Aegis wants to service this client from the North.
Giles Brooksbank, chairman of Feather Brooksbank, which at the beginning of the month took the prestigious Scottish Government account from MediaCom Scotland, is aware that the larger London-based agencies are starting to fish outside their normal waters.
He said: "They are beginning to trawl a little deeper, that's for sure, but we have to be ready for that. At some point, accounts at non-London agencies will look at their business and make some considerations, but if your service is good enough, that shouldn't be a problem."
Guy Beardsley, group media director at McCann Manchester, thinks that more interest in regional business from the larger London agencies is inevitable.
He said: "At the moment, with London poaching regional business, anything is fair game, whereas three or four years ago it wasn't. One and a half and two million-pound accounts – the larger agencies weren't really that interested.
"Now there is more pressure on us, undoubtedly. To an extent, we're all on alert, but at the same time we are all over our clients and we're doing everything we can to prevent them from even thinking of looking around."
Although it is obviously big news that Aegis will be acquiring the agency, the back story is that Carat had taken the Asda business from the independent Leeds-based agency Brilliant.
Last Friday, Brilliant learned it had been squeezed out of the £92m pitch for furniture retailer DFS, which had kicked off due to the sale of the business to private equity firm Advent International for £500m by Lord Kirkham, owner of the chain.
The UK's largest media agency (by billings) MediaCom picked up the account. The WPP agency already dealt with the £42m press-buying account.
Brilliant was incumbent on the TV, radio, outdoor and digital aspects of the business. DFS is the seventh-largest spender on media in the UK, and after the regional Asda blow, it is bound to raise questions about what form the agency will take in the future, although, at the time of the Asda loss, Steve Lane, the chief executive of Brilliant insisted that the agency was, "not in administration" and was "solvent."
Simon Dodd, IPA regional chairman and founder of The Digger Agency, points out that larger agencies often chase clients they would not normally chase during times of recession.
He said: "Larger agencies have obviously encountered the drying up of spend from existing clients, so are now searching for business in areas they wouldn't normally search, and looking at clients they wouldn't normally look at."
Over the past year, several regional agencies have taken hits on some large chunks of business.
In March last year, Tunbridge Wells-based full service agency WFCA lost its £8m creative and media accounts for the Carpetright and Sleepright. Ironically, the account was taken by fellow Tunbridge Wells agency Twenty Twenty Vision, set up by MediaCom founding member Bill Jones, a former media director at WFCA, so this was a case of a regional agency hunting in its own backyard.
More disheartening news for WFCA came in July 2010, when one of its other key accounts, the high-street retailer Bathstore, decided to put its media and creative accounts up for review.
Both accounts landed at mainstream London-based agencies, with the £5m media business landing at Omnicom Group agency Manning Gottlieb OMD, and the £6m creative account shipping out to M&C Saatchi, despite WFCA attempting to defend both tasks.
Clients have obviously been having to re-examine which media agencies they place their business with, and the economic downturn causes them to seek shelter with larger agency groups and not the cosy embrace of the smaller independent shop that promises them more personal time and, in many cases, familiar faces working on the business.
Dodd said: "Clients will have their heads turned by approaches from larger areas, and some chief executives during tough times will be asking why their business is not at a Starcom or a MediaCom, but some will also be asking why they are paying for a W1 address."
Unfortunately, it does look like a worrying time for regional media agencies, with the most cautionary tale coming from the end of last year.
Following the trend, one of the larger media networks, Starcom MediaVest Group, picked up the £35m media business for bed specialist Dreams.
In this case, the incumbent agency, North-East based Robson Brown, was mortally wounded by the transfer of the Dreams account, and went into administration after the loss.
Dreams also appointed Rainey Kelly Campbell Roalfe/Y&R to handle its advertising account.
Robson Brown and its sister agencies, Bath-based Attinger Jack and London-based R2 Communications, formerly Austin West Media Limited, appointed the administrator Zolfo Cooper to take care of the sale of the agencies.
Robson Brown was one of the largest agencies in the North-East with around 80 staff.
Brooksbank, on the future for agencies outside the London hub, said: "One thing is for sure, companies outside of London are able to offer just as good a service as anywhere else.
"I think it's up to us to be much more outward-looking in our perspective, to go out and attract companies to come and look at our business, or get on our bikes and go to theirs."

Explore the UK's biggest agencies, including the top regionals, on Brand Republic's Adland map.