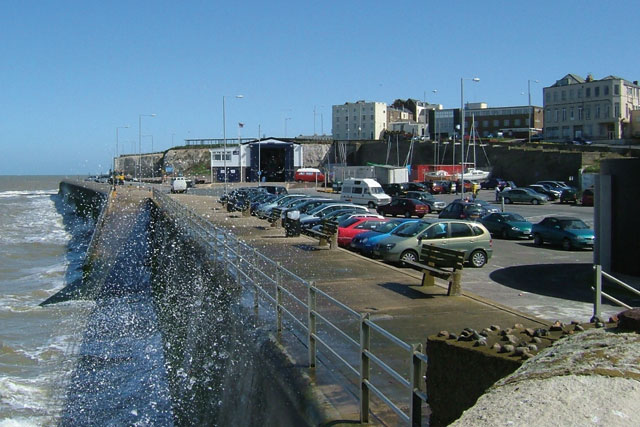 Kent Messenger Group's bid to acquire the Kent Regional News and Media assets of Northcliffe Media was announced in July - and the Office of Fair Trading promptly announced that it was to solicit opinions, from all interested parties, as to the pros and cons of the deal.
The deadline was tight - submissions had to be in by 8 August, which made some in the local business communities of East Kent a little paranoid and jittery. Or as jittery as people get in Margate and environs - an area not exactly famed for its sensitive souls and nervous nellies.
Kent Regional News and Media's titles serve the Thanet, Swale, Shepway, Canterbury, Dover, Ashford and Medway areas.
Were they, some observers wondered, being stitched up? Some commentators argued that the proposed takeover might have implications for local jobs - Kent Messenger Group would clearly be looking to make savings as it rationalised an enlarged operation. And there might be some ad market implications, especially for those lacking clout in the media marketplace.
But there was also a recognition that, if a deal wasn't done, some or many or all of the Northcliffe titles could be under threat of closure. A local newspaper franchise has rarely been a licence to print money; but, in recent years, as the effects of the recession have exacerbated the problems of a medium struggling with longer term digital challenges, the scope for local extortion has diminished considerably.
The Kent proposal had, in other words, become a no-brainer. Or so we thought. Last week, the OFT announced it was referring the bid for a formal monopolies adjudication - and Kent Messenger Group promptly announced it was therefore dropping the whole bid.
The resources needed to continue this process would have been significant: and, in these straitened times, the company doesn't have the cash to pursue a fool's errand. Thus, the future for these titles - titles that (we assumed) the OFT believed it was trying to save - is now, arguably, rather bleak.
Geraldine Allinson, the chairman of Kent Messenger Group, points out that this was a relatively small transaction involving just seven weekly newspapers - and argues that it would have been good business not just for the company, but for advertisers and readers too. She states: "The local newspaper industry has welcomed the relaxation of local cross-media controls instigated by the Culture Secretary, Jeremy Hunt, abolishing restrictions upon local newspaper, TV and radio ownership in core circulation areas. However, as an industry, we stress that such liberalisation must be accompanied by a more realistic approach to local media mergers and assessment of competition in local media markets."
Understandably, Steve Auckland, the managing director of Northcliffe Media, tends to agree. He says: "Before the web, it was possible to imagine there could be regional press monopolies - but it's a completely different game now. Most advertisers split their budgets many ways - and no-one ever gives the lion's share to regional press.
"In our Kent deal, we hoped there might not be such a problem with red tape - and there were hints that (the regulatory process) might be relaxed. But that hasn't happened. The signal this now sends to the rest of the regional newspaper industry is that consolidation is going to be very hard to achieve. The result will be that titles may close - and that does no-one any favours."
Les Middleton, the joint head of MediaCom Accent, says that five or six years ago, there was a feeling that consolidation could be a threat to the ability of agencies to get decent deals. "That just isn't the case any more," he admits. "From an advertising point of view, this deal would have made no real difference. Kent Messenger Group already had a strong position in Kent. Yes, it would have been stronger, but that wouldn't have had much impact on media buyers. If KM had bought these titles, the businesses would have been tidied up and there would have been investment in editorial. Stronger products would have emerged."
Absolutely, Lynne Anderson, the communications director at the Newspaper Society, concurs. She points out that, compared with other media sectors, the regional press remains remarkably diverse. And she concludes: "Further consolidation would allow publishers to invest more in services and content, product quality, digital platforms and training. The creation of local publishing organisations with greater local scale is one of the most effective ways to protect the future success of local titles and maintain plurality of editorial voice."
YES - Geraldine Allinson, chairman, Kent Messenger Group
"Local publishers need to ensure they can develop strong, vibrant core newspaper businesses before even thinking about investing in other new media to serve their communities, such as local TV."
YES - Steve Auckland, MD, Northcliffe Media
"We feel let down at the difference in what the Government has been saying about red tape and the reality of what actually happens. The OFT still has to apply rules that were appropriate 20 years ago."
YES - Les Middleton, joint head, MediaCom Accent
"Yes, regional press is over-regulated. The medium needs to consolidate - and regulation is stopping progress. Some regional newspaper groups are going through a tough time."
YES - Lynne Anderson, comms director, Newspaper Society
"The UK regulatory regime should recognise the realities of local media markets and the fierce competition for advertisers and audience. Local advertisers can exercise significant choice when allocating their media spend and this would not be damaged by local newspaper mergers."