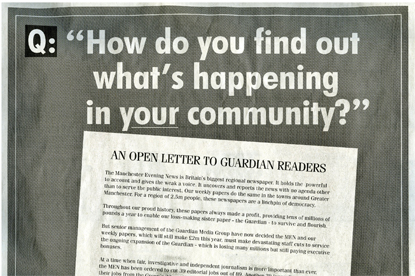 In that time, 60 regional titles have closed, as advertising revenues have fallen by around 37 per cent across the industry.

Yesterday, Citigroup cut its full-year earnings forecast across two of the biggest regional newspaper groups, Daily Mail & General Trust and Johnston Press, by 11.6 and 17.5 per cent respectively.

In reaction to the news, the National Union of Journalists has taken out a full-page ad in The Guardian urging readers to campaign to help save the regional press.

The ad asked readers to urge their local MPs to sign an early day motion to "help keep local newspapers alive", and criticised cuts made by the Guardian Media Group to its regional newspapers in Surrey, Berkshire and the North-West.