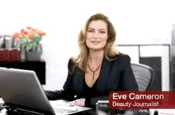 The ad featured a beauty journalist advising women who were looking for an alternative to cosmetic surgery to use the cream in order to appear younger.
A study from the World Congress of Dermatology was referenced in the ad as it showed that pentapeptides are effective in reducing the appearance of lines and wrinkles.
Many viewers objected that the ad was offensive in its implication that cosmetic injections were a natural next step for women as they got older.
One viewer, a doctor, challenged whether the claim that pentapeptides were effective at reducing the signs of ageing was supported by scientific evidence.
Proctor & Gamble said the ad aimed to target women who had considered surgeries but were looking for non-surgical alternative such as an anti-ageing cream like Olay Regenerist.
The ASA acknowledged that most consumers would understand that the ad was not implying cosmetic surgery as an inevitability and that while the ad may be distasteful to some it would not cause serious or widespread offence.
However, claims that pentapeptides could effectively reduced the signs of ageing were found to be unsubstantiated and inconsistent.
The ad must not be broadcast again in its current form.
The ASA also ruled against a press ad for Australian airline, Qantas, after two members of the public complained that the claim Qantas 2-for-1 great new sale was misleading as the second traveller paid more than 50 per cent of the full price.
A TV ad for online greeting cards company, Moonpig escaped a ruling, after 13 viewers who challenged the claim of same day delivery on orders made by 2pm did not receive their orders for several days.
Two press ads in Sunday Telegraph supplement Stella promoting an evening shopping event at Agent Provocateur escaped any action despite two people complaining that the imagery was offensive.
The ads featured lingerie-clad women, one wearing a blindfold with a rope around her neck, while another was shown crawling on all fours.
The complainants said the ads were demeaning to women and possibly unsuitable for publication in a national newspaper as they may be seen by children.
However, the ASA ruled that as the ads appeared in a supplement that was clearly aimed at adults it was unlikely to appeal to children. No further action was necessary.