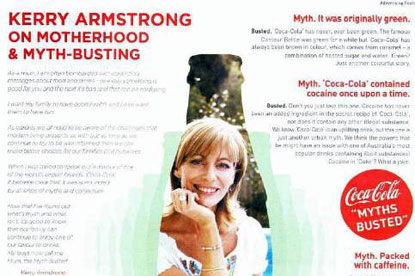 The ad, 'mythbusting', published in October last year, featured actress Kerry Armstrong alongside a number of 'myths' about Coke.

The ad denied the drink made you fat, rotted your teeth and was packed with caffeine.

But a ruling by the Australian Competition and Consumer Commission said: "Coke's messages were totally unacceptable, creating an impression which is likely to mislead that Coca-Cola cannot contribute to weight gain, obesity and tooth decay.

"They also had the potential to mislead parents about the potential consequences of consuming Coca Cola."

Coca-Cola South Pacific has agreed to publish a corrective ad in Australian newspapers and websites.

The company will also publish the levels of caffeine for Coca-Cola products compared to the levels for tea and instant coffee.