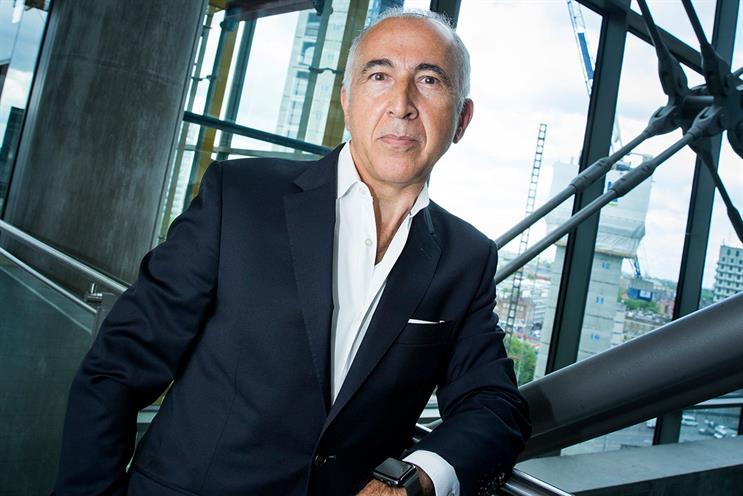 If you need evidence that the sting of Brexit has eased, look no further than Marks & Spencer's genial marketing boss, Patrick Bousquet-Chavanne. On the day after the referendum, he was perhaps the most outspoken critic in the marketing world, tweeting that the vote was a "senseless and tragic choice for Britain".
And now? "There is a need for unity," he says. "The people of the UK have voted and there was a duality, there was clearly a polarisation, but there was an outcome and you have to embrace that outcome and make sure you are securing the best for the British people."
Bousquet-Chavanne is more plug-ged into the challenge of finding the pulse of the nation than most. With 30 million customers, M&S cannot afford to have a single target shopper in mind. Bousquet-Chavanne believes the retailer's customer base is "probably the best sample of the UK population as a whole".
Establishing a brand position that could resonate with this spectrum of consumers was the challenge given to Grey London earlier this year, when it became M&S's creative agency. Rainey Kelly Campbell Roalfe/Y&R London had held the brief for 16 years and signed off with a widely acclaimed Christmas ad.
"I'm happy we finished on a high; it was a great exclamation point," Bousquet-Chavanne says. "We were celebrating 16 years-plus of a great relationship but there were some issues in terms of the construct and the renewed ambition I wanted the brand to have."
The idea that persuaded him that Grey was the right choice for the brand contradicts a basic axiom of marketing: that you want your audience to say "yes" to things. Instead, Grey's campaign, "Spend it well", is about empowering consumers to say "no" to what makes life stressful.
M&S found the desire for greater quality time to be a common feeling among its consumers. "There is a deeper sense that life is moving faster," Bousquet-Chavanne says. "It was much more transgenerational than I expected." To tackle this required something "radical, a call to action".
Rolling out the new positioning has involved more than 50 consumer touchpoints, a key one being M&S.com, which became part of Bousquet-Chavanne's remit last year. The site experienced problems after the retailer ended its reliance on Amazon, which provided the back-end technology, in 2014. The legacy of this can be seen on Google: typing "M&S website" into the search bar prompts suggestions such as "M&S website rubbish".
But Bousquet-Chavanne insists "tremendous progress" has been made and the numbers would back that up – last week's annual results showed online sales up 4.9%, with most of the growth occurring in the past six months. His strategy for continuing this progress is to make the website a "destination" by building an in-house editorial team to create content that competes with purely editorial fashion, beauty and lifestyle sites.
Another strategy is to move away from promotional activity, a reliance on which was "distorting perception of brand quality
But the website's performance has not been enough to push the business as a whole into positive growth. After an unexpected rise over Christmas, clothing and home sales fell 5.5% between January and March, marking 21 quarters of decline out of 23. The conundrum of how to turn around the brand's clothing business is not going away – but Bousquet-Chavanne believes he now has the answers.
M&S's research into its consumer base has informed a new approach to its fashion range, which he says is about "not forcing people into an age segmentation" but aiming products at a particular lifestyle or life stage. The brand is also "being trend-aware but not addicted to trends". Was M&S hung up on them? "We might have been in the past," he says. "And I don't think that's a position M&S should occupy. Our designers are clearly aware of what is happening in the fashion world but they are applying their knowledge with a better understanding of our customer base."
Another strategy is to move away from promotional activity, a reliance on which was "distorting perception of brand quality", Bousquet-Chavanne says. This shift could be paying dividends: beneath the headline figures, the brand is gaining market share in full-price clothing and home sales.
M&S has recently signed up ex-Asda chief Archie Norman, who will join in September as chairman



If anything makes Bousquet-Chavanne anxious, it's the unknowns that lie ahead. "As head of digital, I do have some sleepless nights about technology's impact on consumer behaviour and whether we can keep this organisation moving at pace," he says, mentioning connected homes as a potentially destabilising factor. It is these kind of changes that led the retailer to announce it would trial online food shopping later this year.
M&S has recently signed up ex-Asda chief Archie Norman, who will join in September as chairman. Jill McDonald – the former Halfords boss who was previously a McDonald's marketer and UK chief executive – will run the clothing and home business.
Bousquet-Chavanne says he shared a "communion in thinking" with McDonald about where to take the brand. Does he believe the skills of the marketer travel easily between sectors? Absolutely. "It is all about understanding your audience and looking at the reptilian reflexes that condition why people embrace a brand or not," he says. "We're deeply conditioned by our genetics and the culture in which we are raised. Once you know the art, and more and more the science, then that skill can be exercised in a variety of situations."