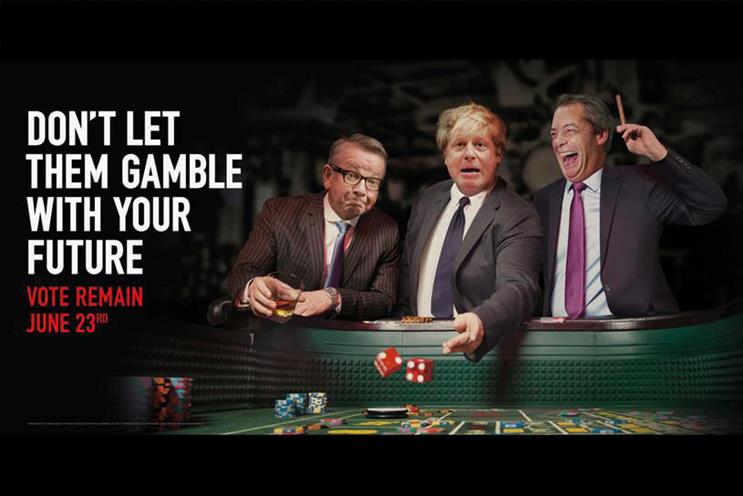 The stakes were raised this week when three separate polls put the "leave" side ahead on Monday, and then The Sun came out in support of exiting the EU on Tuesday.
Britain Stronger in Europe launched its first ad by M&C Saatchi on Monday featuring UKIP leader Nigel Farage sawing off a branch he and Boris Johnson were sitting on. The agency is working on different treatments that could appear over the next seven days.
The official "remain" campaign is understood to have chosen to focus its activity on the final two weeks because of the £7m spending limit. Targeted outdoor executions will be supported by digital activity emulating the Conservatives' successful social media strategy for last year's general election.

Britain Stronger in Europe's first ad by M&C Saatchi
In comparison, the Vote Leave campaign has not worked with any of the major London agencies. Vote Leave's Dominic Cummins told Campaign in March that he was looking for a "small, hungry and edgy agency" but later decided not to appoint a shop.
Benedict Pringle, founder of Politicialadvertising.co.uk, said: "From my perspective, Stronger In is winning the air war. They have a clear, simple message and they are executing it in fresh, compelling ways.
"By contrast, Vote Leave has lacked clarity and their offering on a creative content front has been sparse and largely forgettable."
In addition to its formal relationship with M&C Saatchi, Britain Stronger In Europe has been working with other agencies. Adam & Eve/DDB created an ad featuring Farage, Johnson and Michael Gove as gamblers at a craps table.
Saatchi & Saatchi is understood to have had meetings with Britain Stronger In Europe and could create an ad for the campaign.
Both Adam & Eve/DDB and Saatchi & Saatchi have also worked on punchy unofficial activity. Adam & Eve/DDB has created films starring Keira Knightley and Lily Cole, while Saatchi & Saatchi is behind the latest ads for Operation Black Vote.
UKIP-affiliated Leave.EU was criticised this week for a tweet that linked the terrorist attack in Orlando to the referendum vote.