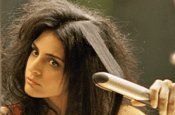 The company is in first stage talks with a number of network agencies and is looking to compile a shortlist ahead of a pitch later this year.
The winning agency will advertise Remington's range of appliances with particular focus on its hair care products for women.
The search comes exactly 12 months after Remington parted with its global agency Grey Worldwide, which had held the account for more than a decade.
Since then, it has re-run ads created by Grey. Last year, it spent £2.5 million on UK media, the bulk of which was on TV and cinema.
Grey's last high-profile campaign for the brand broke in 2006. Using the endline "It's what's on the outside that counts", it controversially suggested the better you look, the happier, richer and more successful you will be in life.
Media planning and buying, which is handled by Mediacom, is unaffected.
Remington has not yet commented.