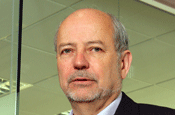 The changes follow the agency's split from Agency Republic and the rebranded Zulu network, Republic Family, in March this year.
Chris Gordon, the former global chairman of Rapp Collins, who took on the role of chief executive at the agency following the merger, has now made a number of senior appointments to assist him in relaunching the network. The aim is to "combine consumer science with outstanding creative".
Trisha Fairless, the strategy director at Rapp Collins, has been appointed to the role of business development director, while Patricia Lyle, the senior vice-president of strategic business analysis at Targetbase in the US, will now spend half of her time at the agency's London office and head its strategic offering.
Pete Harle, the executive creative director at Claydon Heeley, will continue to oversee the creative department.
Gordon said: "The critical element in our new offering is the science now at our disposal, which basically doubles our effectiveness through improved relevancy. We have had to undergo a major restructuring of the agency in order to deliver this, but we are now open for business."
Targetbase Claydon Heeley's clients will include 3, ING Direct and Royal Mail.