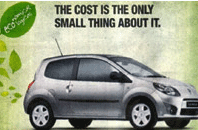 A national press ad for the Twingo Dynamique was set against a green background and showed an image of leaves coming out of its exhaust.
The ASA today criticized this, and the way Renault had used its Eco2 logo without explaining the criteria used for this label.
"Because Renault had not explained the basis of the "Eco2" logo and because the image of leaves coming out of the exhaust and the "eco-logical" claim implied that the car was more environmentally friendly than it was, we concluded that the ad exaggerated the environmental benefits of the Twingo and was therefore likely to mislead."
The ASA said that the car was in band C of the Vehicle Excise Duty rankings for emissions and that it did not feature in the Department for Transport's selection of top ten low CO
2
cars.
Renault had argued that either individually or taken as a whole the claims within the ad were substantiated with information contained in the ad itself, or which they could make available.
Following the ruling, Renault has agreed to withdraw the ad.