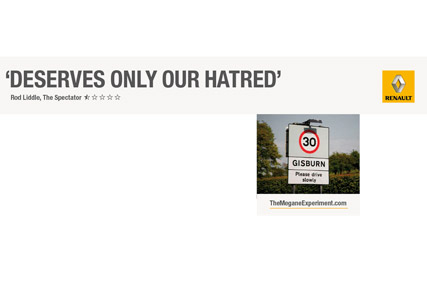 The latest ad point people to a short film, The Megane Experiment. The film features the efforts of a character called Claude as he tries to persuade villagers who live in a place where there are no Meganes, Gisburn in Lancashire, that they need some 'joie de vivre'.
The latest advertising thrust follows initial teaser ads in July and a TV campaign in August.

It plays on the comedy afforded by a suave Frenchman visiting a resolutely northern English village.

The latest series of advertising kicks off this week and will include cover wraps on print titles including free magazines Sport and Stylist as well as the London Evening Standard.

Online banner ads and bus advertising will also be included. Media planning and buying has been handled by OMD.

Neil Simpson, chief executive of Publicis, said: "This is the latest stage of a truly ground-breaking campaign for Megane, one of Europe's best selling cars."
"We always knew that the subject matter would provoke a reaction, but the result is a brave and beautifully crafted film that shows the warmth and 'joie de vivre' of the residents of Gisburn – proving that a car really can change a town."