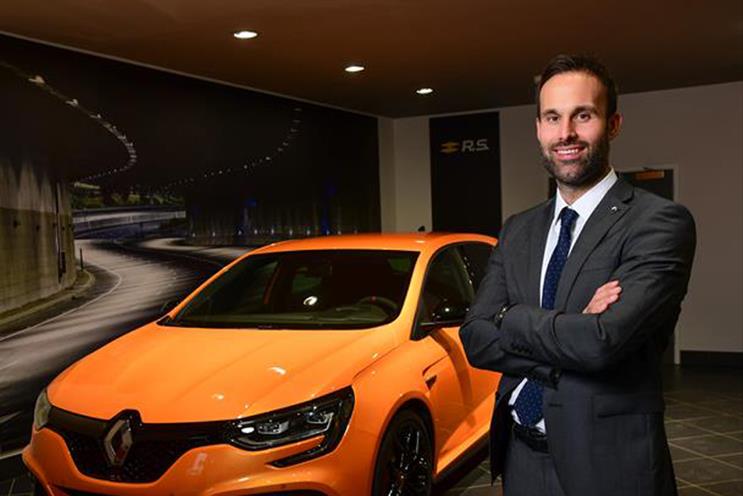 Wood, who joined the marque 10 years ago as part of its graduate intake, steps up from his previous position as head of marketing communications.
He replaces James Boyer, a Renault veteran of 26 years, who is joining the global team in Paris to assume the role of deputy chief marketing manager for pick-ups.
It comes as part of a broader restructure of the car company's marketing operations, with the aim of providing "clearer ownership" of Renault's brands - including low-cost marque Dacia - while also encouraging collaboration across teams.
Chris White becomes deputy marketing director and brand manager for Renault Cars, while Ed Preston is promoted to head of marketing communications.
Ben Fletcher becomes range manager for Renault Z.E. (Zero Emission vehicles) and Steve Wilson becomes range manager for Renault Pro+ Commercial Vehicles. Louise O'Sullivan, meanwhile, continues as brand manager for Dacia, and Sophie Richard as marketing planning and coordination manager.
Vincent Tourette, managing director of Renault UK and Ireland, said: "[Wood's] track record within Groupe Renault speaks for itself; he has made key contributions in all of his roles here.
"His promotion to marketing director along with the re-structure of the marketing team, including additional headcount roles, will strengthen an already extremely capable team and allow us to focus on our business targets for the years to come."
Wood added: "The Renault range has been transformed and, with our 100% electric vehicle line-up, Renault is in a strong position to capitalise on a changing market. Dacia is growing from strength to strength as we see our first loyal customers returning, and Alpine promises to be a compelling challenger in the premium sports sector. I look forward to the challenge of continuing to build our brands' success."