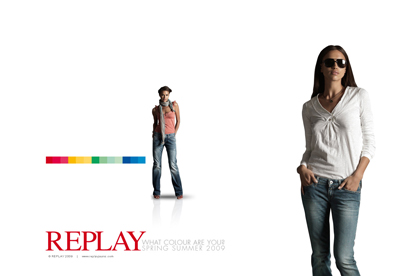 A number of undisclosed shops in the UK and Europe have been contacted by the Italian fashion brand, which sells men's and women's clothing and fragrances.
The company has previously produced the majority of its advertising in-house but is understood to be seeking an agency for a retained marketing relationship.
Atletico International, the Barcelona-based agency, recently worked with Replay on a TV campaign for its new fragrance line. With the strapline "Replay your fragrance", the campaign featured animated watercolour images of a boy and girl meeting under a tree and launched in September.
In the past, Replay has created a number of TV campaigns in partnership with the Los Angeles-based director Michael Haussman, who has also directed ads for Levi's and Yves Saint Laurent.
His most high-profile campaign for the brand, "the journey", showed a man returning from travelling in Kenya, India and Tanzania, and was shown at a number of short film festivals across Europe.
Replay is owned by Fashion Box, the fashion brand founded by the Italian businessman Claudio Buziol.
Buziol launched the Replay jeans label in 1978 and it has since grown into a global fashion brand, with sales totalling EUR353 million.
In 2007, the company moved into fragrance and jewellery, signing partnership deals with Procter & Gamble for its fragrance line, Christian Bernard for its watches and Arcte for its jewellery.
The brand has also recently launched an underwear and beachwear line.