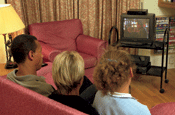 The report, which cites research conducted by the pollster Yougov, found that 64 per cent of respondents agreed that advertising is a good way to find out about new products.

It also found that 59 per cent believed that advertising is often entertaining.

Baroness Peta Buscombe, the chief executive of the Advertising Association, said: "These results are heartening and encouraging for the advertising industry.

"The polling shows that advertising is clearly seen as an entertaining and useful source of information on products and a vital source of media funding."

The research also found only one in seven people felt that there should be greater government regulation of the ad industry.

It found that 73 per cent of people recognised that advertising is controlled by rules and regulations in the UK, with 79 per cent recognising there are watchdogs overseeing the industry.