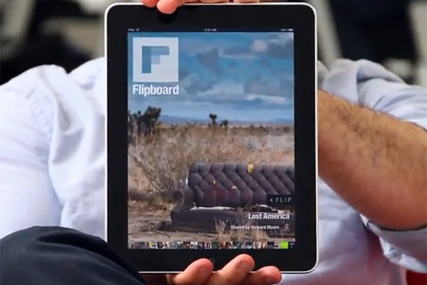 Flipboard takes content being shared by your friends via Twitter and Facebook and renders them real-time into magazine-style layouts so they can be browsed on the iPad.
The comany describes the app as combining "the beauty and ease of print with the power of social media" and it is already creating waves, with the internet buzzing with talk of its potential impact for publishers and brands.
Since its launch two days ago, though, the response has forced Flipboard to install an invitation only system as it works to solve server capacity issues.
In a post on a Flipboard message board, a rep from the company explained the move to sort out the initial problems.
The company has been founded by Mike McCue, former cheif executive of Tellme, and Evan Doll, former senior iPhone engineer at Apple, and has been backed with $10.5m in seed funding, from investors including Kleiner Perkins Caufield & Byers and Index Ventures, Twitter co-founder Jack Dorsey, Facebook co-founder Dustin Moskovitz and The Chernin Group.