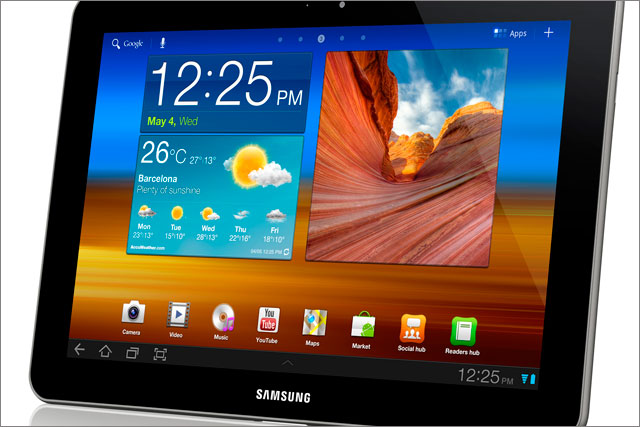 Apple has won a preliminary injunction preventing Samsung from selling the device in European Union countries, in an ongoing dispute between the two technology companies over design similarities with the iPad 2.
The regional court of Dusseldorf granted the injunction yesterday (9 August), which Samsung will not be able to appeal until four weeks' time.
But UK stores selling the Galaxy Tab 10.1 said they were still trying to confirm what the news would mean to their immediate trading, with the tablet still available to purchase through online stores such as Amazon, Play.com and Currys this morning.
A statement released by Samsung UK said: "Samsung is disappointed with the court's decision and we intend to act immediately to defend our intellectual property rights through the ongoing legal proceedings in Germany and will continue to actively defend these rights throughout the world.
"We will take all necessary measures to ensure Samsung's innovative mobile communications devices are available to customers in Europe and around the world.
"This decision by the court in Germany in no way influences other legal proceedings filed with the courts in Europe and elsewhere."
Samsung will now be prevented from selling and marketing the 10.1 design – released in the UK last week – in all European countries except the Netherlands, for which a separate case is expected.
The 10-inch design is a larger version of the seven-inch Galaxy Tab which was unveiled in September last year on Google's Android platform. Both the Galaxy Tab 10.1 and its rival the iPad 2, launched in March, are on sale from £399.
An Apple statement said: "It's no coincidence that Samsung's latest products look a lot like the iPhone and iPad, from the shape of the hardware to the user interface and even the packaging.
"This kind of blatant copying is wrong, and we need to protect Apple's intellectual property when companies steal our ideas."
An Apple spokesman said that the injunction's effect was "immediate".
The Galaxy Tab's Australian release had been stalled over a similar dispute between Apple and Korean manufacturer Samsung, but a Samsung Australia statement said that an injunction was not currently in place, and that Samsung still hopes to release the Galaxy Tab 10.1 to the Australian market in the future.
Samsung appears to be Apple's closest challenger in the tablet market. In total, 77% of respondents to PRWeek/One Poll's April survey said they would rather own an iPad than any other tablet, while the Samsung Galaxy Tab came second with 10%.
Apple become the most valuable company in the world after its market capitalisation passed that of oil giant Exxon yesterday. But by the end of New York trading Apple was back in second place, with a market value of $346.7bn to Exxon's $348.3bn.