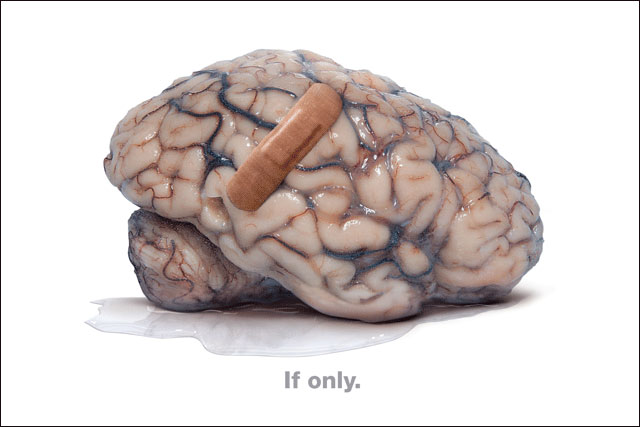 Created by M&C Saatchi, the campaign, called 'If Only', features eye-catching pictures of a brain with a plaster on it. The ads aim to raise awareness of mental illness and direct people to the charity where they can get support and practical advice.
The campaign will launch today (28 November) online, and via outdoor, through press ads and in GP surgeries across the country.
Mark Davies, director of communications for Rethink Mental Illness, said: "We want this campaign to provoke debate – to really make people stop in their tracks and get them thinking. There is a lot of misunderstanding about mental illness, and, as an organisation, we aim to be really honest and clear with people about the issue and what could help."
He added: "We're particularly keen to communicate with young people, and so we've tried to talk about mental illness in an accessible way that people can relate to. Ultimately, we hope that the campaign will enable us to reach out to more people who could benefit from our support."
The drive comes coincidentally after the death of the Welsh national football manager, Gary Speed, which is drawing attention to the issue of mental health.
Sue Baker, director of Time to Change, the anti-stigma programme run by Mind and Rethink Mental Illness, said: "We do not yet know the circumstances around the terrible tragedy of Gary Speed's death, but we want to encourage anyone experiencing similar levels of despair to try to speak to someone, whether friend, family or their doctor."
Last week Rethink appointed The7stars to its media planning and buying account, as part of its larger profile-raising strategy.
Follow Sara Kimberley on Twitter @SaraKimberley