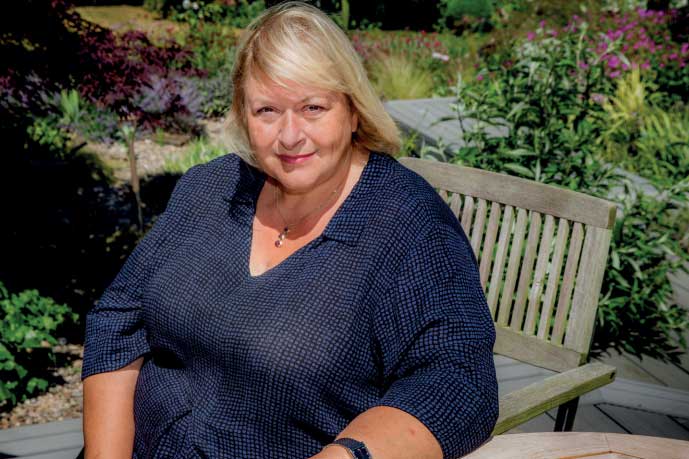 Tess Alps is busy podding broad beans in the garden of her Hertfordshire home – a sprawling Victorian property that used to be the nurses accommodation for a village isolation hospital. Her husband, Tim, a semi-retired musicologist, is pottering around in the background. If this sounds like a more contemporary and less down-at-heel version of The Good Life, then it's entirely fitting.
Alps has just become the latest recipient of the Advertising Association's Mackintosh Medal, the highest award the marketing communications industry can bestow on one of its own for "public and personal service to advertising". In short, for being good. Very good, in fact.
The Thinkbox chair is a modest sort – universally popular but, like everyone, not without her contradictions. She claims to be an introvert but displays theatricality. For example, before starting in advertising, she worked in educational theatre, touring the working men's clubs of the North East after completing a postgraduate degree in theatre studies. Not a job for the faint-hearted.
Alps first made a name for herself in the macho, confrontational and slightly backstabby world of TV airtime sales in the late 1980s and early 1990s. "I set out to be an ITV sales director as not many women did it," she says in a matter-of-fact way.
Her rise was all the more commendable as she showed that you don't have to be a shit to be successful – a moral compass, she says, acquired from her lapsed religious faith: "My saviour is that I was brought up a Catholic. So although I don't believe any more, I think God is still there." She recognises that, in choosing to accept the rarely awarded medal, her virtuousness is not overwhelming.
One other innate contradiction is Alps' claim that she hates confrontation. Anyone who has been a recipient of one of her withering disappointed looks will tell you how hellish it can be. The ad industry has been getting its own dirty looks of late, particularly when it comes to HFSS food and obesity in children. So how does Alps reconcile this, as well as her personal socialist beliefs, with advertising also being the engine-room of capitalism? Should there be more restrictions imposed?
"I did a speech about what Roald Dahl would think about kids not having any sweets. Advertising does have an effect [on obesity] – but there are so many more complicated societal issues behind it. I want the government to look at the evidence and not make gestures to shut pressure groups up," she says.
As followers of Alps on social media will attest, a further target of her ire is the internet: "I think we need to stop bellyaching about how it's impossible to regulate the internet. People talk about it as if it has a life of its own. We need advertisers not to support companies that don't play by the rules.
"It's not that Google and Facebook are evil – they do smart things – but it doesn't excuse the damaging effect they have as a quasimonopoly. They're not going to volunteer to do it – governments need to do it. We wouldn't tolerate them in other industries."
Truth and justice – two recurring themes throughout Alps' life – echo the best advice she says she ever received: "Somebody told me that you can only lose your integrity once." Alps uses this integrity as a member of the Advertising Standards Authority council, where she ploughs through its weekly caseload.
Dropping her modesty-guard further, she admits to being proud of her achievements in helping transform Wacl by giving it a purpose and launching its Future Leaders Award.
Future leaders – of either gender – could look to Alps as a design for life. And while she's not planning on quitting the industry she loves (and that loves her), it's time to get on. "Back to the beans, sweetie," she says. Back to the beans and policing the internet and everything else that keeps Alps busy leading a good life.