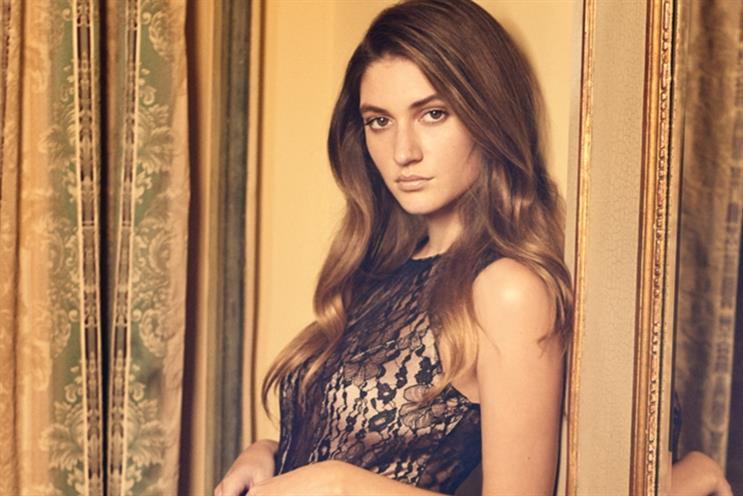 Playboy is flip-flopping.
Almost exactly a year ago, the granddaddy of girlie magazines removed nudity from its pages, hoping to increase circulation the same way a ban on naked women reinvigorated its website two years earlier. It was a short-lived experiment, and full-frontal skin is back in the March/April 2017 issue, which hits newsstands Feb. 28.
Scott Flanders, the former Playboy CEO who spearheaded the cleaner look, left the company just a few months after implementation to run a healthcare insurance marketplace. While an investment banker has been interim CEO since then, Playboy's editorial direction is now being steered by 25-year-old Chief Creative Officer Cooper Hefner, who is trying to right the company his father Hugh founded 63 years ago by taking it back to its roots. But will a return to the raunchy actually help Playboy stay relevant in the post-smoking jacket era?
"Part of me just wants to say, scrap it! Playboy, from its name to its concept of catering to the male gaze, while offering 'smart' articles, is too anachronistic a concept," said Barbara Herman, senior writer at sparks & honey. "But if it's going to give it a shot, I think it's a good idea that Playboy is returning to its nude roots. A nudie mag without nudes makes no sense."
Others in the ad industry agree that Playboy might be beyond the point of salvage. "They should have sooner closed the magazine than abandon their core beliefs and attitudes in favor of an extra buck. It was a move that was destined to fail," said Javi Iñiguez de Onzoño, executive creative director at Officer & Gentleman, whose campaigns for sex streaming website Pornhub make them one of the few ad agencies that have actually worked for clients that distribute pornography. "Obviously, they've learned from their mistakes, but they've already lost that unapologetic attitude that made Playboy an icon in the first place."
The younger Hefner is hoping that isn't the case. He had been an opponent of the change in the first place, and after Flanders' departure, he's trying to make the case that Playboy isn't as out of touch as its detractors say. In July of last year, Hefner ranted about the change to LA Weekly, saying it was "a bad idea, the whole thing." In a blunt tweet this week, he called the removal of nudity "a mistake," adding, "Nudity was never the problem because nudity isn't a problem."
February 13, 2017
That's the crux of Playboy's argument for reintroduction, heralded with a hashtag campaign, #NakedIsNormal. To some, it's a throwback to the brand's heyday. "Playboy brought a level of normalcy to something that in the often sexually repressed U.S. of that era was deemed bad and immoral and treated as something to be kept in the dark. They did it by bringing a level of class to their magazine that helped separate them from what people usually associated with smut," Iñiguez de Onzoño said.
But a quick scroll through the responses to the hashtag show that the public is clearly divided over whether that's still true.
"I think the trick is going to be to make nudity aesthetically, erotically and culturally compelling in a world that is eons away from the classic 'Playboy' in terms of gender and sexuality," Herman said. It's an issue the brand is apparently aware of, since the latest issue removes the tagline "Entertainment for Men" from the cover. But while women who appear in its pages vouch for its progressivism (an essay on female sexuality written by Hefner's fiancée, Scarlett Byrne, accompanies her photo spread), the magazine will need to do much more to convince the public at large.
"Maybe women photographers can help reinvent the female nude," Herman suggests, "or photographers from the fashion world or the art world."
But according to Jason Clement, president of media agency Noble People LA, Playboy's woes actually have very little to do with whether the magazine shows nipples. "I think nudity is a red herring at this point. Lifestyle publishers today win on content that is good enough to be shared and talked about in culture. Playmates, nude or not, are not something that could be shared or talked about the way an editorial piece could," he said.
Instead, the magazine needs to double down on the articles. They're the "real" reason people read it, after all. "Only a commitment to solid journalism with a unique point of view can create the buzz Playboy needs to be a relevant media brand in the modern publishing space," Clement said. "Even legacy publishers like Rolling Stone have been able to find a voice through writers like Matt Taibbi, and they produce content that is not only passed along but drives culture."
Certainly, the latest issue doesn't lack for big-name thinkpieces. There's an interview with Scarlett Johansson, who talks about the recent Women's March, as well as a profile of political commentator Van Jones. The outspoken hip-hop duo Run the Jewels also makes an appearance.
It may be that a focus on editorial has already been working for the brand. Playboy declined to comment for this article, but data indicates the shift away from nudity over the last year coincided with an increase in readership. In 2015, Playboy circulation was about 820,000 copies. But preliminary data from the first half of 2016 shows a subscriber base of 673,473, putting the magazine on track for more than 1.3 million copies last year.
Whatever the actual readership, the leadership isn't happy, so it's back to basics. But there is a least one competitor that's unabashedly pleased to have Playboy back in the fold. "We applaud Playboy's decision to go back to its roots and bring nudity back to its famed magazine," said Corey Price, vice president at Pornhub, which attracts more than 64 million users each day. "As we know firsthand, the old adage 'sex sells' is true. We're excited to see Playboy fly off the shelves in droves once more. Onward and upward, Playboy!"