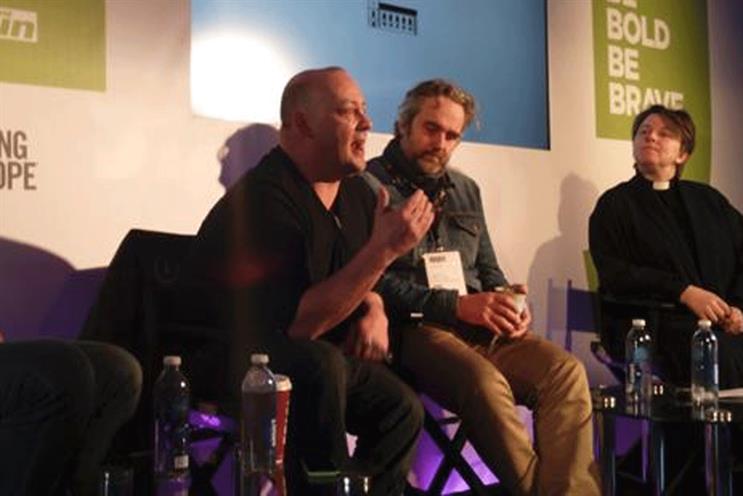 The talk was held next to St James's Church, Piccadilly, which has opened its doors to Ad Week Europe for the first time this year. The session was called 'Adopting the Missionary Position?'
Fraser was speaking on a panel with: Dave Buonaguidi, Karmarama and St Luke's founder; Chris Maples, the former vice president at Spotify Europe; and Lucy Winkett, the rector at St James's Church.
Fraser's opening gambit was "Why I hate advertising", and the priest told a story about spending a pleasant day in his garden with his children only to go into his house, switch on his TV and be met with commercial messages that told him his life "was a bit shit".
He said: "It seemed to me that what advertising is doing is generating dissatisfaction [...] Not just personal unhappiness but social unhappiness."
Maples was quick to draw parallels with advertising and the church, which he said also sewed dissatisfaction in order to prime people into receiving its message – and Fraser agreed - before adding that the marketing industry made for an obvious whipping boy but was not powerful enough to claim credit for society's ills.
Buonaguidi, who left Karmarma, the agency he founded, earlier this year and is still on gardening leave, said: "I think that advertising is lazy and doesn't understand its role in people's lives. I find that is because the industry has a role to play in cultural society – its creative thinking and problem solving should be used for more than just making ads.
"The ad agency isn't just a production company to make ads, it should be about getting smart people together who can tell brands what their message should be".
Follow everything that's happening at Advertising Week Europe on Campaign's live blog.