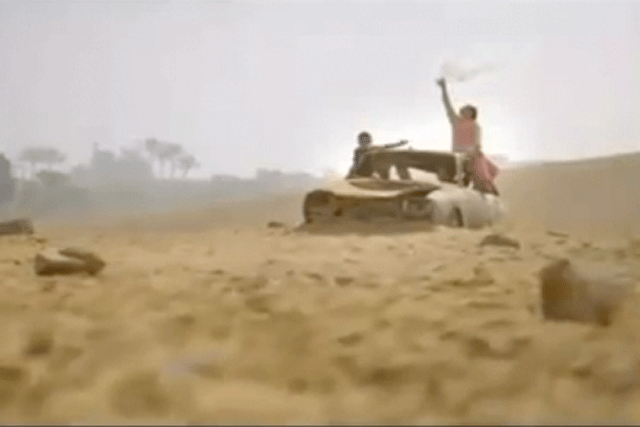 Vodafone found itself on the wrong side of a PR scandal last week when a video went viral that appeared to be an ad implying the mobile operator had helped to inspire January's popular uprising in Egypt.
The clip, which contained the line 'We didn't send people to the streets, we didn't start the revolution ...
we only reminded Egyptians how powerful they are,' alongside images of the Tahir Square rallies, sparked anger.
Blogger Mohamed El-Dahshan summed up the feelings of the aggrieved. 'Never mind the years of activism, the protests, the decades of cumulated grievances, the terrible economic situation, the trampled political freedoms, the police brutality, the torture, etc,' he blogged. 'Nah - we just watched a Vodafone ad, and thought: "Hey! We're powerful! Let's topple the president!"'
JWT, the agency behind the film, apologised and issued a statement that it was never intended for external use, nor designed to be an ad. It continued: 'In retrospect, we realise that the sensitivity of such a subject should have been taken more into account in how we positioned and used this internal film.'
Nevertheless, the episode illustrates the caution with which brands must proceed if they plan to build into their marketing activity serious causes grounded in real societal issues. This is not to say it cannot be done successfully, however; Google, for example, has won plaudits for its recent 'It gets better' campaign on the theme of homophobic bullying.
Earning the right
Chris Arnold, creative partner at ethical agency Creative Orchestra, claims that 'many brands are failing to understand how to connect with social movements because they approach it by thinking about how they can make money out of it rather than support it'.
'You have to have earned your right to connect, or be invited in,' he adds.
Marketers looking to embrace themes with a social conscience must ask themselves whether they are 'setting the agenda or getting on the bandwagon', warns Trevor Hardy, founder of creative agency The Assembly, who has worked on Make Poverty History and AIDS campaign (RED). 'A brand could use the Arab Spring in its marketing - if it felt like an authentic view,' he says.
Brands piggy-backing on social movements is not new. Professor Jeffrey Ogbar, associate dean of history at the University of Connecticut and a black nationalism and radical social protest expert, writes in his book, Black Power: Radical Politics and African American Identity, that the movement was 'sanitised and repackaged' by corporate America in the 70s.
'From selling underwear to malt liquor, Black Power had marketing power. The subversive and subaltern had been embraced by the mainstream in zealous and profitable endeavours,' he claims.
Likewise, in her seminal text No Logo, Naomi Klein highlights how brands including Abercrombie & Fitch, Diesel and Virgin Cola have associated themselves with the gay rights movement through their campaigns.
Instant reaction
What has changed since then is the speed and ease with which expressions of revulsion can spread, be it via 24-hour rolling news channels or - as was the case for Vodafone - social media.
Tom Huxtable, managing director of 23Red, an agency that specialises in social marketing campaigns, says that when Unilever rolled out its feminism-inspired the 'Campaign for real beauty' for Dove, consumers online were quick to point out this was the same company behind male-grooming brand Lynx, the marketing of which could be said to objectify women.
'When people realised that they were both Unilever products, they felt this was hypocritical (positioning),' he adds.
Michelle Clothier, managing director of youth marketing agency Livity, contends that the 'robustness and transparency that consumers insist upon will only increase'. To step up to this challenge, she advocates an approach whereby any brand embarking on marketing related to a cause must make sure there is a 'return on social capital', as well as investment.
While Klein's book was published a decade ago, its message on the co-option of social movements by brands is still a relevant one that marketers would do well to remember.
'Feminism, ecology, inner-city empowerment were not just random pieces of effective ad copy that their brand managers found lying around,' she wrote. 'They are complex, essential social ideas for which people have spent lifetimes fighting.'
Expert comment: Arvind Desikan, head of UK consumer marketing, Google
The web is what you make of it, showcasing the stories of people who are changing lives or impacting the world through the web.

The It Gets Better movement is a powerful example of how American columnist and author Dan Savage was able to send a message of hope to millions through the web. Stonewall played a big part in bringing this to the UK, and in building a local community of support around this message. Through our campaign, we are telling the story of how this global web movement took root in the UK.