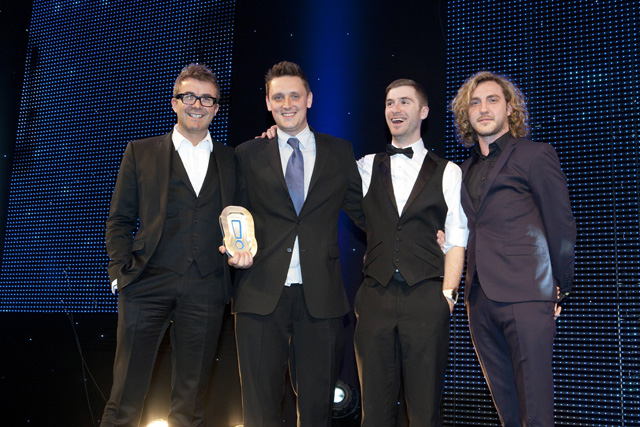 AKQA's Star Player app for Heineken scooped the Revolution Award for Innovation, the event's most prestigious accolade. The app focused on the competitive banter of football fans by creating a live and social TV game experience.
Xbox's European head of media Paul Evans beat off stiff competition to claim the digital marketer of the year trophy. Evans has championed the use of social gaming, enabling Xbox to tap into new and hard-to-reach audiences and was responsible for the recent global launch of Kinect for Xbox 360.
The Agency of the Year Award went to TBG Digital, one of the industry's most recognised Facebook experts, which has experienced stellar growth in the last year.
The launch of JK Rowling's Pottermore.com, an online reading experience for Harry Potter fans, created by Adam & Eve, triumphed across three categories, including media and entertainment, best integrated marketing campaign and best use of online advertising.
All of the winners of the Revolution Awards 2012:

Top Flight Awards
The Revolution Award for Innovation
Heineken Star Player by AKQA
Digital Marketer of the Year
Paul Evans, European head of media, Xbox
Agency of the Year
TBG Digital
Best Start-Up
Beyond
Multi-Sector/Multi-Discipline Awards
Marketing on a shoestring
Heineken Music Matcher by TBG Digital
Best use of consumer engagement
Sneakerpedia by Sapient Nitro
Vertical Sectors
Automotive
Ford Love The Summer Vibes by Mindshare Media UK
Business to Business
Dealer portal mobile iPhone application by Auto Trader UK
Financial Services
HSBC Student Bursary competition by MadeByPi
FMCG
Invisible for Black & White launch by Carat
Leisure/Travel
ebookers Explorer iPad app by Fortune Cookie
Media & Entertainment
The launch of Pottermore.com by Adam & Eve
Not-for-profit/Charity/Public Service
Who Killed Deon? By AMV BBDO
Retail
ASOS Marketplace by Profero
Technology & Telecoms
The Feed by Poke London
Digital Disciplines
Best integrated marketing campaign
The launch of Pottermore.com by Adam & Eve
Best location-based campaign
Bud Ice Cold Index by Isobar Mobile
Best use of affiliate marketing
No ordinary airline by affilinet and nonstopConsulting
Best use of data visualisation
BAFTA Flickometer 2011 by Poke London
Best use of email
Customer behaviour campaign for Budget Rent A Car by Red Eye International
Best use of mobile
Heineken Star Player by AKQA
Best use of online advertising
The launch of Pottermore.com by Adam & Eve
Best use of online PR
Wedding Dance by M&C Saatchi PR
Best use of search
Proving the value of generic search through in-store sales by Carat
Best use of social media
The Feed by Poke London
Best use of video
Mouth vs Life by JWT London
Best viral
Evolution of mobile by TBG Digital
Best website
ASOS Marketplace by Profero