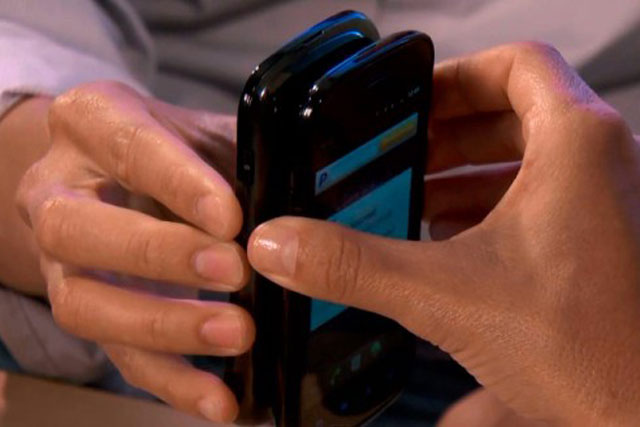 A record crowd of more than 67,000 visitors from 205 countries attended the 2012 Mobile World Congress in Barcelona last month to lap up the latest product developments from the industry's biggest names.
The annual gathering of mobile executives, entrepreneurs and enthusiasts was, as ever, abuzz with shiny new gadgets and jaw-dropping technology. Here, we identify five of the biggest talking points that marketers need to know.
1. Mobile content first
When most organisations think about their brand, they begin at the top and go from there. The logo, packaging, the homepage: these are the starting points for most marketers. But what happens if you start at the bottom? That's what Scott Jenson, creative director at Frog Design, wants to know.
'Designing for mobile first is a critical exercise,' says Jenson. 'Instead of cramming an entire desktop or website onto a mobile screen, start by deciding what the critical content needs to be on the smallest screen and go from there.'
This thinking is the hallmark of a practice called 'responsive web design', which is adaptive from the bottom up, instead of degraded from the top down. 'RWD is a strong methodology and guiding principle,' says WeLoveMobile's Jennifer Hiley.
'The best way to start is to deconstruct the situation,' says Jenson. With a rye smile, he asks: 'Do you have a website? Good. Take what you know about it and go from there.' Breaking down the product, site or project into small, malleable parts will create building blocks. Using those blocks of content and functionality, it is much easier to construct a solid, common base from which to expand.
Revolution's view:
Going 'mobile first' won't be the easiest thing to do for most organisations, but the payoff will be obvious in the midto long term.
2. Crossover marketing
Ford launched the B-MAX SYNC at Mobile World Congress. It's the first time that a car company has ever launched a vehicle outside of a traditional car show and demonstrates Ford's focus (no, not that Focus) on technology, innovation, partnerships and crossover marketing.
A few years ago, the idea of launching a car at a mobile conference might have seemed absurd. In 2012, it made a lot of sense.
Ford is raising its profile at tech events around the world, with a strong presence at Mobile World Congress as well as CES and WAN-IFRA. Ford's chief technology officer, Paul Mascarenas, explains: 'Being at these events helps us to stay on top of trends in consumer electronics, maintain the technology partnerships that we're building around the world, and gives us the opportunity to tell our story and define our image as a company.'
He adds: 'We're in a hi-tech industry and technology helps us tell our brand story.'
Revolution's view:
Breaking out of the pack is critical to success in today's overcrowded media landscape. Untraditional thinking landed Ford a prime-time spot at a world-class event, far from the competition and media frenzy that often accompany auto shows.
3. Apps: HTML5 vs native
The battle of the apps continues, as brands, agencies and developers debate how the next chapter of the mobile industry will be written. On one side, there is a strong argument to be made for the continued development and proliferation of native applications - those designed for a particular mobile platform, such as Android or iOS.
On the other side are web apps created using HTML5, a common standard across multiple mobile devices. HTML5 is a game-changing technology that will disrupt the app market as we know it, and smart marketers will do well to put strategic resources behind this now.
Revolution's view:
HTML5 web apps will cut down on companies' development costs while still providing rich interactive experiences for consumers across multiple devices and platforms.
4. Partnerships
'Go it alone' is not the way most companies at this congress tend to operate. One of the reasons the conference is so successful is that it provides an incredibly strong environment for networking. This year featured several unofficial fringe festivals led by Helen Keegan's 'Heroes of the Mobile Fringe', which were fantastic opportunities to meet people in the business and explore potential partnerships.
Both Ford's Mascarenas and Nathan Clapton, vice-president of mobile partnerships at TripAdvisor, made it clear that without strong partnerships they would not be where they are today. Mascarenas' presentation outlined Ford's partners, including Microsoft and Nuance, which were critical to launching the SYNC range of vehicles.
TripAdvisor's stand was part of Android's one, emphasising the community aspect of the business. 'We launched our tablet application into the Android market first, and the kudos and support we receive from our partners at Android is invaluable,' Clapton says. 'Mobile helps us find different routes to market, which lets us engage in different ways with our consumers. The right partnerships in the right places help us to accomplish this.'
Revolution's view:
There's a lot of support out there in the mobile ecosystem. London is a hotbed of mobile agencies and developers. Take advantage of it.
5. Chinese brands have arrived
One of the biggest stories coming out of this year's Mobile World Congress was the improvement and subsequent expansion of the Chinese mobile industry.
Huawei is the largest China-based networking and telecommunications equipment supplier, and the second-largest supplier of mobile telecoms infrastructure equipment in the world (after Ericsson).
Like Huawei, ZTE is headquartered in Shenzhen; it is the second-largest Chinese telecoms equipment maker, measured by 2011 revenues, and the world's fourth-largest mobile phone manufacturer, measured by 2011 unit sales. ZTE smartphone sales are growing faster than any other vendor except Apple.
While their presence at the 2011 Mobile World Congress was significant in size, neither Huawei's nor ZTE's products stood out from the crowd in terms of quality, innovation or design. On the contrary, the two brands were often criticised for bringing inferior-quality products to market.
This year, however, both brands gained in stature and credibility. With a series of product launches using the latest technology and often a renewed and modern design, their products will be increasingly available across Europe as their global market shares continue to expand.
On the first day of the congress, Huawei announced the world's fastest smartphone and the first 10-inch quad-core tablet. In one day, ZTE had no fewer than 15 product announcements, including four Android phones, which will be marketed in Europe.
To drive home its creative and technological points, Huawei created and prominently displayed a Pegasus made out of Ascend smartphones. Not only was it an artistic statement, but many of the 3,500 phones used to construct the statue were P1 S models, currently the thinnest smartphone available.
Revolution's view:
The announcements by Huawei and ZTE signal the arrival of a new phase of mobile leadership that will be increasingly driven by Asian and, indeed, Chinese innovation. Most UK consumers have heard of Samsung and LG, but they are probably unfamiliar with Huawei and ZTE. With that set to change, this is the time to be exploring partnership, co-marketing and distribution opportunities with these rising brands.
'This is a new year for the ZTE brand,' says He Shiyou, executive vice-president and head of the terminals division at ZTE. 'We will be focusing our marketing in particular on the high-end markets of Europe, America, Japan and China.'
NEARLY HERE: NFC
In 1961, Arthur C. Clarke said 'any sufficiently advanced technology is indistinguishable from magic', George Nimeh writes.
Last year, near-field communication (NFC) was the talk of Mobile World Congress. This year was no different. Everyone wants NFC to be a viable solution today, because it's fantastic technology. After all, there's something cool about waving your phone like a wand and waiting for the magic to happen.
Unfortunately, the fact is that there are simply not enough mobile devices in the market today to justify significant development and marketing spend, unless, of course, mobile payments and/or finance are critical to your business. But it's only a question of time before NFC becomes the de facto standard for the transmission of small amounts of data between mobile and other electronic devices, so establishing a strategy is definitely a good idea.
NFC will be particularly relevant to mobile payments, as it will enable an era of mobile wallets. One of the leaders in the mobile payments business is PayPal, which recognises that being agnostic and somewhat patient has some advantages. 'We want to make sure that our consumers can use us everywhere. We're focused on removing friction and providing utility to our merchants and customers,' says PayPal's vice-president, mobile, David Marcus.
For now, PayPal and other companies that are experimenting with NFC often need to revert to more established technologies such as QR codes while they wait for consumers to catch up. The problem with QR codes and other 'obvious' technologies is that they are often more scientific than magical. And magic trumps science.