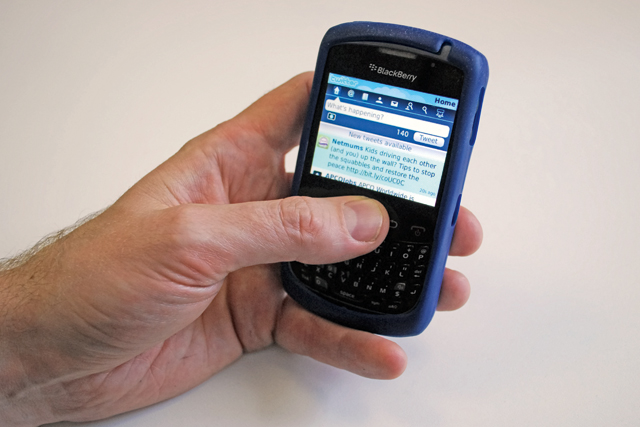 With the continuing boom in smartphone adoption and the rise in sales of tablet computers, consumers are increasingly using mobile devices to shop online. Spurred on by the current economic climate, they are also using their mobile kit to search for low prices, special offers and vouchers. Affiliate schemes offer a way for businesses to engage with this market, so it's little wonder that brands are looking to embrace the opportunities of affiliate marketing across mobile platforms.
Debenhams for one has dipped a toe in these waters, with a trial of a location-based mobile voucher that offered shoppers in the proximity of its stores a £5 discount on a £30 spend. Gillian Makepeace, affiliate marketing manager at the retailer, believes that there has been a definite increase in affiliate activity. 'In the past year, we've had to change our terms and conditions for affiliates to cover these developments, and it has added exposure for the brand,' she says.
Until now, affiliate marketing success has come largely from canny use of content, search engine optimisation and partner network choice. However, continued growth is likely to be delivered by affiliates that have switched on to the opportunities offered by emerging channels.
'There are some key factors that make mobile affiliate marketing different to that of other digital channels: in particular, timing and immediacy,' says Tim Dunn, strategy director at Isobar Mobile. 'A 2011 Google study found that mobile users want to "do it now". That means getting a voucher on their phone that they can redeem there and then. Mobile is not just about "when" but also about "where" it happens - location is understandably a significant factor in voucher activity and affiliate marketing.'
Affiliates catch on
A 2011 report by digital agency Bigmouthmedia found that affiliates were looking to embrace the opportunities provided by mobile marketing and social media - and location-based marketing was seen as the biggest new opportunity by 40.7% of affiliates. So far, brands in the entertainment, restaurant and drinks sectors have made the most out of mobile affiliate schemes, the report said.
Meanwhile, 27.2% of affiliates cited social networking as an opportunity, compared with none of them in 2010; and mobile marketing was named as an opportunity by 32.6% of respondents.
Helen Southgate, BSkyB's online marketing controller, strategy and planning, agrees that mobile, location-based and social techniques are becoming more important. 'Naturally these promotional techniques are becoming more prevalent in affiliate marketing, and due to the nature of their specific targeting, for advertisers this is an extremely attractive channel.'
Almost 10% of BSkyB's affiliate sales are now derived from mobile devices, Southgate says. The broadcaster is also looking to assist affiliates in the use of social media. 'We support our affiliates in their social strategies by giving them access to content, offers and any competitions that we are running, such as the Big Christmas Giveaway (where broadband subscribers were given the chance to win a number of prizes),' she adds.
Florian Gramshammer, country manager at affiliate marketing provider Commission Junction, says the affiliate business model is enabling the medium to be at the forefront of mobile developments. 'The first affiliates were into mobile about two years ago, so it is now becoming an established practice,' he says. 'Companies such as Quidco and MyVoucherCodes have had mobile applications for that period.'
As more brands launch mobile versions of their websites, it is not surprising that they are looking to involve affiliates, Gramshammer says. However, tracking must be put in place to ensure that affiliates are properly rewarded and to assess the true success of the channel.
Failure to build measurability into mobile-optimised sites could also be detrimental to the customer experience, warns Matt Swann, client strategist for Affiliate Window and buy.at. 'If we consider the Quidco app, for advertisers that have a mobile-optimised site but no affiliate tracking, a warning message advises the customer that cashback will not be paid and that to receive cashback they should purchase through a desktop. This is an interruption to the user journey and could lead to a customer purchasing from a competitor,' he says.
Linking Mobile, which claims to be the first UK affiliate network for mobile marketing, launched last May. David Fieldhouse, chief marketing officer of parent company Mobile Future Group, argues that the rise of mobile commerce means that mobile marketing is maturing. 'We are working with a lot of blue-chip brands, such as Peugeot (see case study), Mazda, Hotels.com, Marks & Spencer, Fitness First and Gameloft - not the traditional mobile advertisers such as ringtone companies,' he says.
According to Fieldhouse, a distinct mobile affiliate network solves several technical issues surrounding device identification and tracking. Traditional affiliate networks have yet to catch up with mobile, as the desktop still represents the majority of their business, he argues. Mobile display revenue is about 2% of the market, he estimates, but accounts for between 8% and 10% of impressions - and it's growing at a rapid pace, he says.
The burgeoning role of mobile and social channels for affiliates provides additional tools for marketers, rather than replacement technologies - Bigmouthmedia's poll found that affiliates were looking for a blend of techniques to deliver business. 'Brands will continue to use the more traditional techniques, but will also look to take advantage of the opportunities that mobile and social present,' says Swann.
It is already a complex environment for brands, according to Andrew Firmin, affiliate manager at retailer Argos. 'There are a number of key accepted models that affiliates use to help drive traffic to other websites, including voucher codes, incentives, content and price comparison,' he says. 'However, the lines between these different models are starting to blur.'
Tools of the trade
Mobile and social go hand in hand, and this will especially be the case as 'mobile local' develops, says Dan Wright, head of affiliates at digital marketing agency iProspect. Bringing everything together will take affiliate marketing to the next level, he believes. 'I can be walking down the street and search for "Levi 501 jeans" and will be presented with all the stores around selling that design, the price, if there's a voucher I can use as a discount and whether I'll get cashback or check-in points on the purchase. This is all possible through current affiliate publishers and it's not far off from going live.'
Incentivisation through mobile vouchers certainly plays a big role in the purchase decision, according to a recent study by affiliate marketing provider LinkShare. In its poll, 41% of consumers said they had purchased something online because of a voucher or special offer.
LinkShare managing director Liane Dietrich says: 'We are seeing more location-based mobile affiliate (apps) such as O2 Priority Moments and Vouchercloud, which provide mobile vouchers and alert users to nearby retailers' deals.'
Of course, all these tools will only be of interest if they can be shown to deliver business. It's still relatively early days for mobile and social affiliate techniques, but the signs are good. For instance, mobile devices display ads more cleanly than desktop computers do, with more prominence for fewer ads; as a result, click-through rates can be eight times higher on mobile than the 0.8% web page average, according to industry experts.
The big challenge for affiliate marketers is to use a multichannel approach that combines online and real-world techniques to drive consumers in-store.
Matalan is currently optimising its site for mobiles, and online marketing manager Tom McLaughlin expects mobile to have a big role to play for its retail estate. "As more and more affiliates, especially the bigger ones, develop their apps, we'd want to help drive footfall in store, and affiliate marketing can be an integral part of a true multichannel operation."
Like many retailers, Matalan has high hopes for the future of affiliate activity. At a time when high-street sales are flatlining for many, it offers a glimpse of a more prosperous future.
STATS
32.6% of affiliates named mobile marketing as an opportunity
40.7% of affiliates named location-based marketing as the biggest new opportunity
FOCUS - THE NEXT BIG THINGS FOR AFFILIATE MARKETING
- Mobile is everything
The growth curves of smartphones, m-commerce and apps mean mobile can only take an ever bigger share of the affiliate sector. It's still relatively small, but this will change.
- Integration rules
Retailers want to be able to combine their online and real-world empires through affiliate activity. More routine in-store voucher redemption will go a long way to helping this happen. Look out for services such as Eagle Eye, which integrates mobile voucher redemption with Chip and PIN technology.
- Call us now
A number of affiliates have introduced systems to allow tracking of web traffic directed to a call centre. This could make affiliate marketing an enticing prospect for big-ticket items and complex purchases.
- Content is king
Google's Panda update took a lot of affiliates by surprise with its emphasis on the value of original content. Expect further refinements to the algorithm.
- Facebook 'monetises' mobile
The social media giant revealed in its IPO filing that half of its monthly users access the site by mobile, but as yet there are no ads on the UK mobile site. That will change in coming months (see Analysis, Marketing, page 12).
- Personalisation is coming
It's complex, but retailers that get personalisation right, without annoying consumers, will have an edge. Intelligent new retailers, such as StylistPick, have built their models around the delivery of targeted offers.
- Hyper-local
This is when offers are made only within a store, or even in specific parts of a store.
CASE STUDY: Peugeot test drives mobile affiliate marketing
As with all car companies, a core element of Peugeot's activity is to generate requests for its brochures and for test drives. Peugeot and its agency OMD UK wanted to maximise the initial enquiries that generate significant car sales and use this activity to form the backbone of its direct response marketing on digital channels.
Mobile lends itself well to producing leads. Drivers may well be 'in the market' for a car at any given point, and the mobile channel allows them to find out more about a brand quickly and easily.
Peugeot partnered with Linking Mobile, a UK-based, global mobile affiliate network, and thousands of brochure and test-drive leads have been generated via the network. Following an upgrade to the Linking Mobile offering in October 2011, additional activity included SMS and QR code activity, which ran on Wi-Fi screens at UK airports. Peugeot expects to continue the activity throughout 2012.
Alex Newman, European head of mobile at OMD, says: 'Linking Mobile is a unique addition to the mobile landscape. We're pleased with the results so far and are looking forward to running more campaigns.'