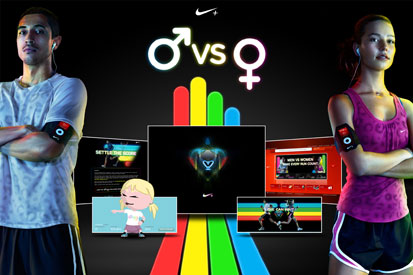 You've just been awarded the Digital Marketer of the Year award at the Revolution Innovation Awards. What does innovation mean to you?
Our goal as a company is to carry on a legacy of innovative thinking. Whether that is developing products that help athletes of every ability to reach their potential or to create opportunities that set Nike apart from the competition, innovation is Nike's difference. Innovation is part of our DNA.
What are some of the challenges in delivering an innovative marketing campaign?
The biggest challenge is the pressure we put on ourselves to push the boundaries of what's possible whilst not going off too far into left field! What's happening today that we can effect? What is going to happen in the future that we can watch out for? The product team is constantly looking to the future and asking themselves questions like: 'How can we create products that will help Wayne Rooney be the best in the world?' We know the product team will deliver us great innovation. Our job is to then do it justice and ensure we engage the consumer in an equally innovative way that cuts through the clutter that surrounds them.
In the current economic climate and with cuts in budgets, what advice do you have for other marketers in changing the marketing strategy and leveraging more social media and online activities?
Cutting through in these mediums will still be impacted by the quality of the work. Perhaps more so than in other forms of media, people are influenced by what they like and what they are hearing and seeing. If you talk to them more frequently and keep the quality of those conversations strong then you'll see the benefits. Ten years ago media spend would significantly outweigh production in an above-the-line campaign. Now if you put more into the production of a campaign and keep that quality high, social media and online can work for you. The reality is that in tough economic climates you simply have to peel back the layers and focus on what you are great at. Consumers want authenticity and will look to brands they trust. So if you get this right, the media you choose to use becomes a secondary consideration.
Your agency, AKQA, won several gongs at the Revolution Awards. What is it you look for in an agency?
Good agency and brand chemistry takes years to build, which is why we have a tight group of great, long-term agency partnerships. You look for people who fundamentally understand your brand and are an extension of what you do. We work with agencies that, like us, have innovation in their DNA. We also look for partners who share our passion for sport and enabling athletes to become better. When you find that you then have to determine if they want to work with you ... we can be quite a tough client!
What advice would you give to younger marketers starting out in their career?
If you don't have a passion for it, move on.
DediPower Managed Hosting sponsored Revolution's Digital Marketer of the Year 2009. Congratulations to this year's winner, Simon Pestridge.