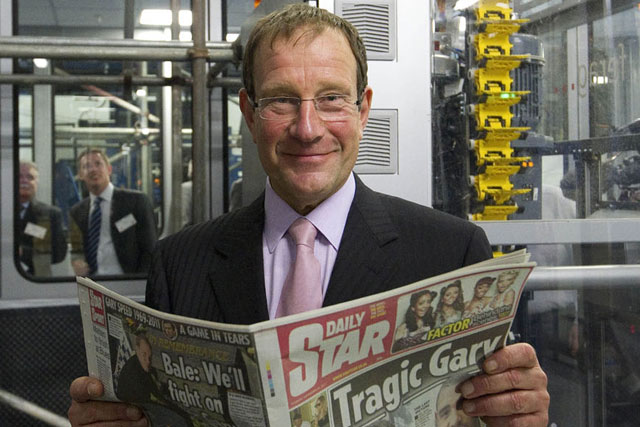 The new presses started printing the Daily Star last night and will begin publishing Northern & Shell's other papers in the coming weeks. The presses have the capacity to print one million newspapers every three hours.
Initially, the Luton plant will print Northern & Shell's newspapers, including the Daily Star, Daily Star Sunday, Daily Express and Sunday Express, jointly with the existing Docklands site, but all newspaper printing will move to Luton by March 2012.
At an event held at the plant for media agency buyers, Northern & Shell suppliers, local Luton politicians and journalists, Desmond said the print plant demonstrated his "belief in the future of print media".
The presses in Luton, manufactured by Konig & Bauer, are able to print full colour and will have the ability to print Northern & shell's magazines, such as OK! and Star, as well as magazine supplements.
Martin Ellice, joint managing director of Northern & Shell, said: "In terms of the print industry, this is a significant investment for the group. It is a significant step forward for our UK business. We believe in print media."
Despite applying for planning permission for offices for 1,000 staff Desmond told Media Week he had no plans to move the rest of the Northern & Shell staff from their Lower Thames Street building – "either in the short or longer term," he stressed.
News Int is 'tarnished' and Dacre is an 'idiot'
Desmond later said he would not be interested in buying News Corporation's The Sun or its quality papers The Times and The Sunday Times, and called the whole group "tarnished" by the hacking scandal.
When asked about Paul Dacre, editor of the Daily Mail, who questioned whether Desmond was a "fit and proper person" to own newspapers, Desmond simply called Dacre an "idiot".

He added: "He is out of touch with the modern world. At the inquiry he said the press have to invade people's privacy because that's what sells copies. The only thing that sells for them is when they give something away."

Northern & Shell has been widely criticised for pulling its newspapers out of the Press Complaints Commission (PCC), which it did in January this year, for undermining the principle of self regulation.

Desmond said he would not rejoin the PCC because he did not want to be with a "bunch of hypocrites", but he said he would consider joining an organisation that was run by "professional people as opposed to spiteful old butchers".
Follow Maisie McCabe on Twitter @MaisieMcCabe