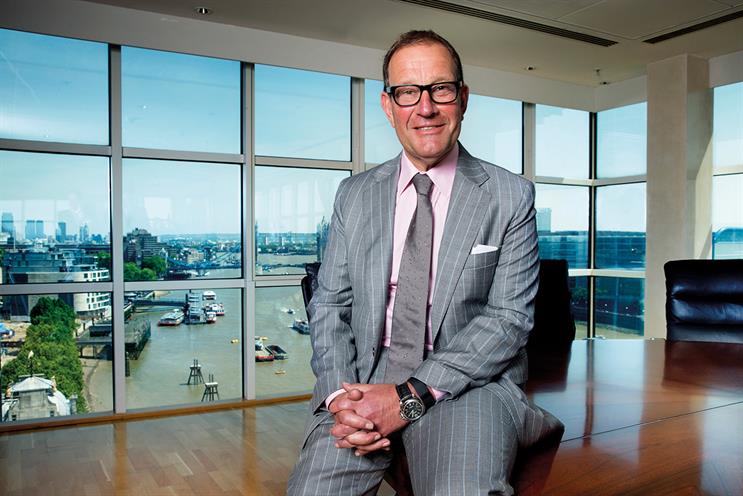 Walking to the podium, Richard Clive Desmond makes for a gentle, paternal figure, hand in hand with his bright-eyed four-year-old daughter, Angel Millie – named after his late mother. He lifts a finger to stroke her cheek and checks "Are you OK?" before stepping up to address the room.
It is the launch night of his book, The Real Deal, and Claridge's is buzzing with a bizarre and heady mix of high-profile guests who have helped define his 63 years.
It's a case of Big Brother meets the City. TV stars present include Barbara Windsor, Vanessa Feltz, Vernon Kay and Anthea Turner. They rub shoulders with business titans such as Sir Philip Green, Luke Johnson and Nicholas Coleridge, as well as an array of hacks and flacks including Kelvin MacKenzie, Matthew Wright, Alan Edwards and Alastair Campbell.
In his trademark suit, shirt and tie, Desmond reads an early recollection from his autobiography of when his father, Cyril, a senior executive at the cinema media company Pearl & Dean, falls ill and loses his hearing.
It is a defining moment in the life of one of Britain's most successful entrepreneurs. It led to his father losing his job and standing, and marks the start of a lonely childhood in north London and the onset of a pernicious sense of "being poor" he'll spend a lifetime trying to shake.
He reads: "Out of the blue, my mother called me in. I knew, from the look on her face, that something was badly wrong. 'Richard,' she said, 'I've got something to tell you and there's no easy way to say it…'"
His monologue is interrupted by a mobile phone ringing and Desmond's rhythm, and moment, is ruined.
"Can we turn all the phones off," he says through gritted teeth. "In fact, whose fucking phone is that? For fuck's sake. Come on, turn it off. Whose fucking phone?"
The owner of Express Newspapers and founder of Northern & Shell then looks down and realises he's still holding hands with his daughter. He proceeds to berate himself under his breath: "Don't use language in front of the children."
The room erupts with nervous laughter and Desmond is laid bare for all to see.
'Penthouse was a step on the journey, a way of breaking out of niche publishing'
The media mogul's foul mouth and short temper are legendary. He is the man, let's not forget, who told Lord Sugar "Fuck off, you're fired" when his time as chairman of TV collaboration, YouView, came to an abrupt and unseemly end two years ago.
He is also the man everyone in the media business loves to hate. Damned for being too loud, tight-fisted and brash, he will similarly be forever tarred with the mantle of "porn baron" due to once owning a stable of adult media including the British Penthouse and The Fantasy Channel.
"I never lived the lifestyle," he repeatedly insists in The Real Deal. The way he tells it, International Musician And Recording World – the first magazine he owned – would be a far fairer representation of him. He clearly found some salvation as a rock 'n' roll drummer in his teens.
By all accounts, it took Desmond just four days to dictate the book and, thanks to the help of his long-time editorial director, Paul Ashford, he already has a new catchphrase you sense will stick around for a while: "It's all in the book. Read the fucking book."
For years, there had been something of a vacuum when it came to Desmond's own profile in the press. Wary of giving interviews after one in The Independent back in 1993 suggested he was somehow embroiled with the New York mafia, Desmond has plenty to get off his chest.
The allegations were never proved but Desmond realised such stories had the potential to be career-limiting for someone on the acquisition trail and hoping to be deemed a "fit and proper person".
But you don't get to be named Britain's 89th wealthiest person in The Sunday Times' 2015 Rich List without attracting a degree of scrutiny. And Desmond's management style does little to quash the rumour mill.
Channel 5 executives recall him savagely laying into, and then firing, someone on work experience for eating crisps at his desk. It's a story he flatly denies: "There's so much crap, so much folklore – if it were true, it'd be in the book."
What is in the book are the words Desmond said to the surgeon moments before an emergency operation for acute angular glaucoma: "You don't really know who I am… I can be very helpful to you or I can be a complete bastard. If I go fucking blind, I will kill you. But if it goes well, you've got the best friend you could ever have for the rest of both our lives."
Fortunately for all concerned, the procedure was a success and the Richard Desmond Children's Eye Centre at Moorfields Eye Hospital was born.
Today, speaking in his spacious 10th floor office with stunning views of the Thames, the media magnate is relaxed and jovial. Last year's sale of Channel 5 to Viacom was a game-changer.
The man who started work aged 15 in the ad sales department of Thomson Newspapers is now valued at £1.15 billion. More significantly, he admits for the first time that he feels financially secure.
After 50 years in publishing, the stint in television seems to have stimulated and frustrated him in equal measure. The amount of regulation, both around advertising and production, clearly irritated him while the likes of Simon Cowell held a genuine fascination.
One of the many surprising revelations in The Real Deal is when Desmond details just how close he had been to lining up The X Factor's Simon Cowell as a broadcasting partner, aided by mutual friend and fellow business billionaire Philip Green, as part of attempts to transform Channel 5.
One proposal on the table had been for Cowell to "rent" Saturday nights on Channel 5 and let Desmond's team sell the advertising. Another was to have the music mogul become creative director at the broadcaster with a 30 per cent stake in the business. Cowell eventually plumped for the safer option of renewing his deal with ITV at the end of 2013.
CHANNEL 4 AND DAVID ABRAHAM
I notice David Abraham, the Channel 4 chief executive, suffers the ignominy of having his name misspelt throughout the book as "Abrahams". What, I wonder, is Desmond's view of his former broadcast rival?
"He's a Jew that doesn't want to be a Jew," Desmond replies. "I invited him to attend the Conservative Friends of Israel – everyone's fucking there. I invite the surgeon of Moorfields, who's Malaysian – he comes. I invite John Whittingdale, Ian Livingstone, Adam Crozier – they all come. But David Abraham says: 'I can't come, we are a government body'... he's just odd."
So does he think Channel 4 should be privatised? "Definitely, 100 per cent. We, as taxpayers, would get around £1 billion and we, as taxpayers, would not have any liability." He adds that a privately run Channel 4 would also be significantly more efficient.
"Two years ago, they lost £30 million and they still gave everyone pay rises because 'the spirit of the channel was great', or something," he says [Jay Hunt, the Channel 4 chief operating officer did receive a special bonus of £40,000 for her "outstanding contribution" on top of other performance-related pay and benefits, as part of an 11 per cent year-on-year increase in total remuneration to £542,000].
Desmond, now on a roll, adds: "And then it was all about how 'he's going through his cash pile'. It might have been a joke, but I don't think it was."
As for the benefits of Channel 4's public service remit to provide a "broad range of high quality and diverse programming", Desmond is similarly unimpressed.
"All he's doing is taking advertising out of the market for other commercial broadcasters," he says. "If they had it split between them they would pay corporation tax, so that's more money there. And then he's putting up the cost of production because he's spending silly amounts on production."
SALE OF EXPRESS NEWSPAPERS
And what of his plans to sell Express Newspapers? It was something he was able to "categorically" rule out when we last met four years earlier, but with rumours that Barclays – who had advised on the sale of Channel 5 – is now actively seeking a buyer, the question is more pertinent than ever.
After a brief dance around the topic, Desmond concedes: "At the end of the day, there's always a price for everything." [Read Desmond's explanation for why there have been no pay rises at the Express here]
However, finding a buyer could prove to be difficult. Unlike Channel 5, which managed to swell its ad revenues from £200 million to £350 million before its eventual sale, Northern & Shell's newspapers and celebrity titles have suffered years of decline.[Read Desmond's thoughts on Channel 5's £55 million dispute with Omnicom here].
Since 2010, adspend has tumbled about 20 per cent at both the Daily Express and the Daily Star to £90.5 million and £55.3 million respectively, according to Nielsen. Meanwhile, his celebrity flagship OK! Magazine has haemorrhaged almost 40 per cent of its advertising in the same period, to just £16 million.
The situation is not helped by double-digit falls across the board in copy sales too. And yet the brands clearly still hold plenty of equity and Desmond is keen to stress how, after a late start, digital revenues at Express.co.uk are growing significantly to reach £12 million a year.
Furthermore, there are, of course, always efficiencies to be had if bought by another publisher, and Trinity Mirror is known to be kicking the proverbial tyres.
However, the unexpectedly high court costs incurred by the publisher of the Mirror's first eight phone-hacking cases (£1.2 million) might just have scuppered any deal. The company is still involved in more than 70 known cases.
For his part, Desmond appears genuinely sanguine about the future. Perhaps this is what happens once you've amassed such a cash pile. Or maybe it's to do with being a new dad again.
"I've just been to Highgate School this morning and saw my daughter in a little school thing," he says. "I've never, ever had time to do that before. By selling Channel 5, I've got two-and-a-half days a week clear in my diary. It's wonderful – I go cycling for a day with my wife or spend a day with photos in the attic or taking them for pizza."
The book has been written, but there could yet be a new chapter based outside the office. Unless of course, something else comes along, and, as Desmond reminds with a grin me on the way out, "things do tend to come along".
DESMOND ON...
Acquiring the UK Penthouse licence
"For us, Penthouse was a step on the journey, a way of breaking out of niche publishing and into the wider market. Of course it gave us a stigma that was even harder to shake off than the damning assumption that we were 'just music publishers'. Then again, I have never minded being underestimated."

Rupert Murdoch's Wapping dispute
"I felt that the stand-off at Wapping and Murdoch/Thatcher's use of public law enforcement to support the operation was excessive and un-British. I thought Murdoch was doing what the old press barons had done, that was erecting an edifice designed to keep the price of entry into the newspaper industry prohibitively high for any potential rivals."

Making his first million
"By now it was Christmas Eve 1987… we had Christmas lunch in our canteen and got drunk. Then we went back to my home and got even more drunk… The following morning I woke up and I looked at my cheque, and I looked at my, well, what Forum magazine used to call manhood. It wasn't any bigger. I didn't feel any different. So that's how it is to make your first million."

Buying the Express
"I thought I had done a deal to save a 100-year-old newspaper from ruin and try to give it a new lease of life… I did not realise I had gatecrashed an elite British club and was a threat to all kinds of comfortable arrangements and presumptions which added up to a very nice lifestyle for a small number of well-placed individuals."

Tony Blair
"As a salesman, then, Tony Blair was among the best I ever met… He actually visited my home a couple of times and played guitar with me, although I have to reveal he is not all that good. He would, I think, have liked to recognise my achievement on Express Newspapers with an honour…"

The Channel 5/Aegis Media row
"I was pleased to note that Channel 5 did not seem to have much idea what they were doing. They had managed to get themselves into a stand-off with the Aegis advertising agency, where their inflexibility over terms lost them £50 million of revenue [in 2010]."

Lord Sugar's exit from YouView
"Alan is a small person… he squared up to me and proceeded to prod me with his right hand saying that I couldn't talk to him like that, that he was the chairman… and that everyone else was useless. Mixed in with all this was a large number of expletives which I myself, naturally, would never use. He pushed me and then put his fist up to my face... I replied, 'Actually, Alan, I do pay your wages. And actually, Alan, you know what? Fuck off, you're fired."

Omnicom's stand-off with Channel 5
"Everything is a negotiation. Basically, him [Colin Gottlieb] and Bammo [Nick Bampton] couldn't agree things." [More on Richard Desmond's thoughts on Omnicom and Channel 5 dispute here]