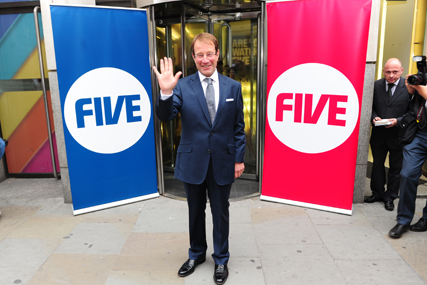 Adding Five to media interests that include OK! magazine, the Daily Express and the Daily Star, Desmond has promised to deliver "investment, drive and leadership" to the broadcaster.
Five's 300-plus staff, including the chief executive, Dawn Airey, are now employees of Northern & Shell.
This week, Desmond announced plans for an estimated £20 million campaign through his Northern & Shell publications to promote Five.
Campaign asked Desmond what his intentions are for Five and how it fits in with the rest of his empire.
Are you considering combining the sales teams of Northern & Shell's national newspapers and Five?
Everything is being looked at across the business and once we have got to the bottom, we'll consider our options.
Are we heading to a one media marketplace, as James Murdoch suggested in his MacTaggart lecture last year?
There are lots of possibles for the future of advertising in this marketplace. That is clearly one option.
What strengths do your current businesses offer Five? What does Five offer your current businesses?
We have the number-one magazine in the world and have entertainment connections across the globe. We have newspapers that totally understand the TV and entertainment market and we have a proven record of successfully running media companies. So, I think that shows we have plenty of strengths to help Five succeed in the future.
Do you think the BBC is detrimental to commercial broadcasters?
The BBC does so much so well. The quality of its online content is clearly excellent, yet it's totally subsidised by the licence fee payer and that raises issues for commercial broadcasters.
Do you still believe in the power of celebrity to drive magazines and TV?
Absolutely. We're living proof of it. Even as we speak, new markets are opening up for OK! magazine in India and China. It's no coincidence that OK! magazine is the biggest in the world.
Does Five need a chief executive and a managing director?
Dawn Airey is a talented and highly experienced TV exec with a great track record. I have no doubt that under her leadership and with the right investment, Five will go from strength to strength to succeed in the future.
What types of programming will you invest in?
More of everything! We've got some great programming already such as CSI and Home And Away, and we will build on that solid stable. What I will do is encourage great British talent as well as further international acquisitions.