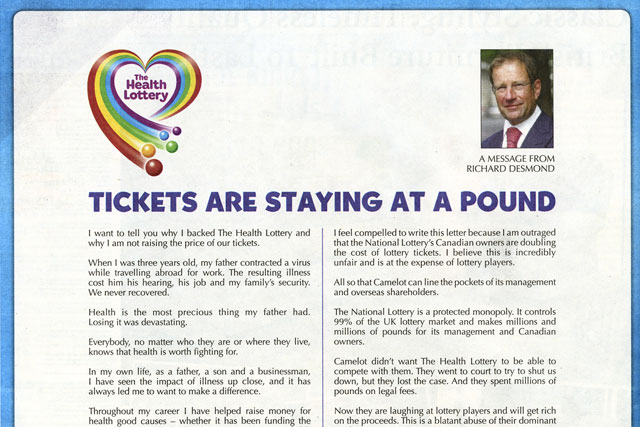 In the ad, which is on page 38 of the Daily Express and page 26 of the Daily Star, Desmond said the National Lottery's price rise to £2 was "incredibly unfair and is at the expense of lottery players".
Camelot, The National Lottery's operator, said the price rise was in response to demands from players, who want to win bigger jackpots. However, Desmond said it was, "so that Camelot can line the pockets of its management and overseas shareholders".
Since Desmond took over the Heath Lottery in 2011 he has clashed with the National Lottery, which failed in its attempt to persuade the High Court that the Gambling Commission had been wrong to award Desmond a licence last year.
Since buying the Heath Lottery in February 2011 Desmond said he has spent more than £48m on the business, without making "a penny in profit".
Desmond's father struggled with his health after contracting a virus when Desmond was young, prompting the newspaper man to raise money for institutions such as Moorfields Eye Hospital and the Teenage Cancer Trust.
In the ad today Desmond said: "As a father, as a son and as a businessman, I have seen the impact of illness up close, and it has always led me to want to make a difference."
Desmond said he invested in the Health Lottery to help raise money for health charities that are "struggling to raise funds".
Follow @MaisieMcCabe