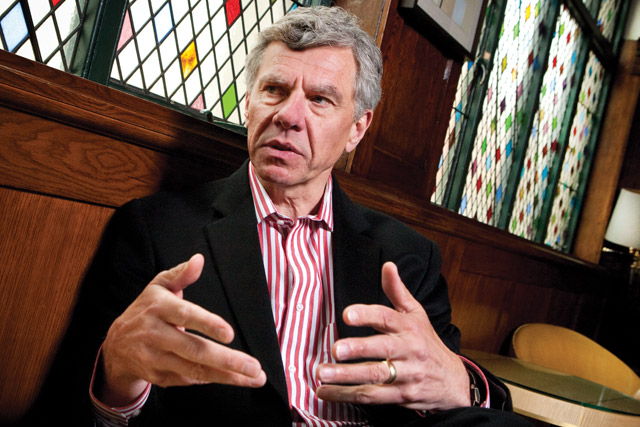 Brands have moved from messaging, to promises, to market research and finally to trust as the most important way to relate to consumers today, Eyre said at the IAB Engage conference in London.
He went on to say that companies and agencies need to change in order to adapt.
He said: "Trust will become the biggest success factor. If your product or service sucks, you are out of the game already."
He cited Clayton Christensen's book, The Innovator's Dilemma, which explains how disruption has ambushed large established companies.
He said: "Doing the right thing may be the wrong thing. Companies are wired for gradual, incremental change. When markets evolve slowly that's fine.
"But in the past 10 years that's not been the case. Investors are no longer interested in powerhouse corporations with predictable incomes.
"The investors want a piece of the disruptors."
Eyre noted how the shift by investors from focusing on gradual growth to fast-moving commercial ideas or inventions has provided more capital to companies that had been deprived of investment before.
He said: "Spotting the new ideas will be the game changer – and reacting appropriately. New companies come apparently from nowhere to ambush the incumbents.
"The incumbents resort to litigation when they should be running like hell to reinvention. It's how the music companies reacted to Napster, and taxi companies to Uber. What was the moment where incumbent got it wrong?
"It's not reinvention of a media plan, but reinvention of the company. You need to change the whole firm."
Eyre believes brand values and company values have become interchangeable. He said the advertising model has also changed gradually: "First, it was design a slogan, find the brand's USP, like Polo – 'The Mint With The Hole'. Then we moved to the pre-emptive claim – like Carlsberg's 'Probably The Best Lager In The World'.
"A great preemptive claim invades valuable brand territory nobody will argue with you about.
"Then to the Brand Promise – using focus groups to find out what markets wanted, and then give it to them. Midland became The Listening Bank. TSB was the Bank That Likes To Say Yes.
"These approaches were dressing brands in clothing consumers wanted to hear. In the past few years it's been brand experience – collating data from internal and external, in a mix of advertising, content, event, wrapping them in a warm hug of marketing messages.
"In the past you could not scale relationships, but now you can. Relationships are bigger than communications."
Savvy consumers are quick to spot inauthentic messages and companies. Consumers want, "a clear and constant truth," he said.
"Disruption happens when effective communications is trumped by brand relationships."
Eyre cited six key pointers to help companies adapt to the new world order.
1. Act like a start-up.
2. Take assumptions captive – assumptions are baggage, but interrogate them.
3. Curiosity and passion – what if we did this? Develop ideas with passion.
4. Experiment and try new things.
5. Think like an insurgent who has to win his ground.
6. Know what you stand for and what your company stands for.
He urged companies to move away from being faceless corporations to convey what they stand for.
He concluded: "If products or services suck, you are out of the game already. It's not the marketing that has to adapt to new customer attitudes and behaviours. It's the whole company."