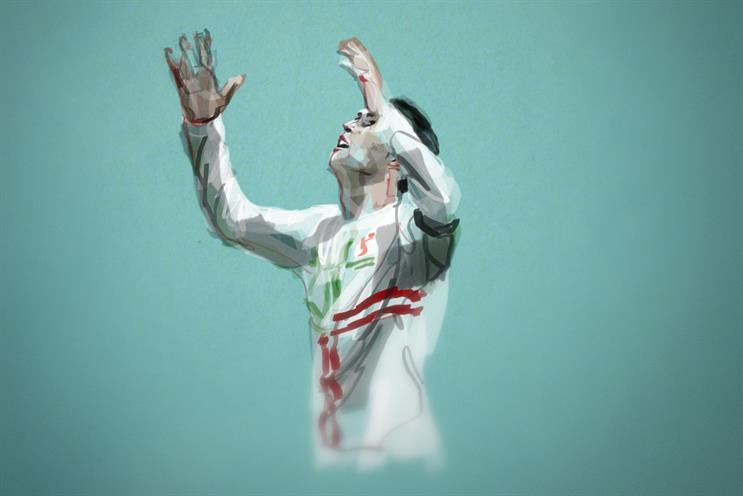 Tell us something about this project. My animated football films get passed around a lot on Twitter and, as a result, I started talking to other artists who specialise in football. It seemed a natural thing to form a mutually supportive group, so I started Fantasista with Theo Delaney and Danny Fleet of Hotspur & Argyle and we decided to put on an exhibition that featured the work of 19 artists – all very different. Its success has been beyond our dreams.
How did you become an artist? I went to art school and spent some time as a graphic designer and, although it wasn't my day job when I was younger, I've always been an artist in some sense. I created my first breakthrough film of Gareth Bale tearing Inter Milan apart in the Champions League in my bedroom at my mum and dad's house.
You turned around a picture of Andy Murray winning Wimbledon quickly – did you know he was going to do it? Oh, sure, I knew he would win, all right… Not really! That particular technique enables me to create pictures of sporting events almost live. I love to do it during big events and post the pictures on to Twitter and Facebook. During England's cricket tour of India, the press couldn't use photographs, so The Daily Telegraph commissioned me to illustrate it instead. It was really exciting because there was a big audience and I was bringing the action to them through the night.
Why do you think there's a correlation between art and sport? The colour, movement and drama of sport are obviously great subjects for art and both elicit real passion in their followers. When I came out of art school, I didn't make any football art because I was worried people would be dismissive. As it turned out, I was wrong, because it was actually when I started doing football stuff that I began to be taken seriously.
What is your favourite sport/team? I love all sport, but especially football. I am passionately devoted to Tottenham Hotspur.
What are you working on next? Much of what I've got coming up explores whole new looks and methods, which is really stimulating. I'm finishing a music video for a fantastic song by China Rats that employs a completely new technique.