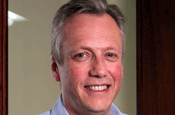 Webb will be replaced by Mark Hollinshead, who will combine Webb's role with his existing position as managing director of Trinity's Daily Record and Sunday Mail.

He will now take on responsibility for the Daily Mirror, Sunday Mirror and The People to the Scottish titles.

The move will bring together the five national newspapers together with digital products under one managing director for the first time.

In June, Sly Bailey, chief executive of Trinity Mirror, announced a profits warning indicating that annual profits would be down 10 per cent this year on the back of declining ad revenues.

She said a £20 million cost savings programme was on target.

She said of the new restructure: "The new role will enable our national newspapers to fully embrace the changing media landscape."