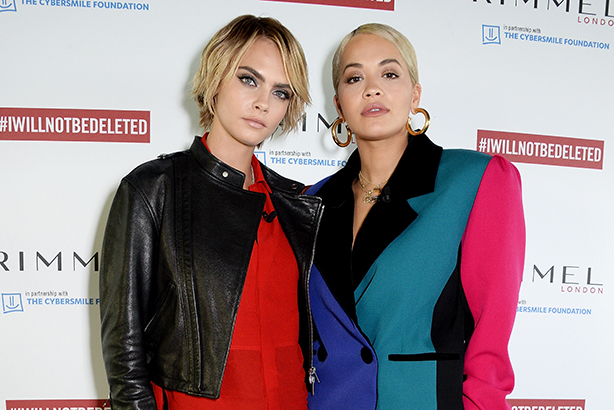 Makeup brand Rimmel and anti-bullying charity The CyberSmile Foundation have launched a three-year global campaign to combat beauty cyberbullying.
The #IWILLNOTBEDELETED campaign will be supported by 15 Rimmel ambassadors, including Rita Ora and Cara Delevingne, and run across social media and digital channels.
It draws on new research that found nearly a quarter (23%) of young women had experienced beauty cyberbullying and about 115 million social media images are deleted annually as a result.
The study, which polled 11,000 16-25 year-olds in 10 countries, found nearly half (46%) of those who have experienced beauty cyberbullying have gone on to self-harm and two-thirds (67%) who had experienced it lost confidence.
At a launch event in London, Rimmel vice president of global marketing Sara Wolverson told PRWeek it is the first time the makeup brand had launched a social purpose campaign.
"[Rimmel's parent company] Coty, as a global beauty leader, is purpose-led, so we want to ensure that each of our incredible brands has got its own purpose," she said.
"For Rimmel, our purpose is very clear in that we want to give people the confidence to express themselves with makeup without a fear of judgement.
"We wanted to do something beyond selling a product. We wanted to use our scale and give a voice to something that really matters to us that can help people who are suffering."
Wolverson said Rimmel's younger consumers want brands to stand up for a cause and have a voice, rather than just sell products.
She said it was important for cause marketing to be authentic to a brand's purpose and tackling beauty cyberbullying aligned well with the makeup brand.
At the launch event, Ora said that it was important to use social media platforms in a positive way to stand up to cyberbullies.
"Sometimes we lose our patience and fight back or react to a comment, but that doesn't come out of anger, it comes out of frustration," she said.
"To be able to use our platforms in such a positive way is super inspiring and hopefully it inspires other people to do the same."
The campaign creative, by BETC London, will launch on 12 November, and shares the personal stories of beauty cyberbullying from ambassadors. It will be distributed through Rimmel and the ambassador's social and digital media channels. Comms for the launch is being handled by Frank PR.
In January, Rimmel and The Cybersmile Foundation will launch an AI tool that provides young people access to support and local resources to deal with beauty cyberbullying. Wolverson told PRWeek that Rimmel has also begun exploratory talks with social media platforms to see how they might contribute to the campaign in the future.
A version of this article was first published by PRWeek.