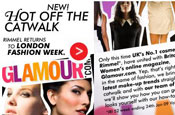 In partnership with Glamour magazine, RMG has created a new area on the Rimmel website that will be regularly updated throughout London Fashion Week, which begins today and runs until Wednesday 25 February.

Each day, Rimmel will give a London resident a makeover with a look straight from the catwalk, with video demos on the styles available on the website.

The site is targeted primarily at women aged 20-35 who take a keen interest in the latest trends and regularly experiment with their looks.

Nima Yassini, the head of digital at RMG Connect, said: "The fashion week videos are a great extension of the new website design, and offer users a great interactive experience on the site."

Alana Hands, the UK brand manager at Rimmel, said: "We are thrilled with RMG Connect's latest site developments, which will allow our users to mimic designer looks just moments after they have appeared on the catwalk."