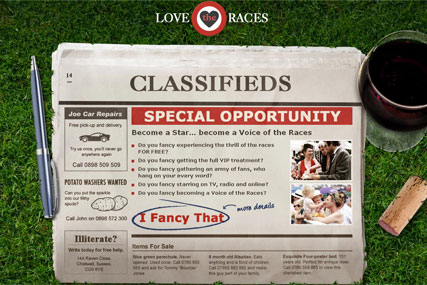 The campaign, commissioned by the British Horseracing Authority and its commercial arm Racing Enterprises Limited, is looking to attract a new audience to the races by providing an insight into what a day at the races is like.
The first phase of the campaign, which will recruit brand ambassadors or "voices of the Races", has already begun. The hopeful brand ambassadors have until 27 August to complete an application at www.lovetheraces.com which will be used to determine who will be a brand ambassador at the races.
Chosen ambassadors will use social media outlets including Facebook, Twitter, YouTube, and Flickr to record their experiences at the races for fans and followers to see.
Craig Johnson, Rippleffect commercial director, said: "Sporting brands need to be more inclusive and innovative in the way they attract ever more demanding audiences.
"This campaign places huge importance on encouraging race goers to create content for the site, such as reporting from trackside, and taking part in photography or video competitions."
Rippleffect has developed digital sports content and campaigns for Arsenal and Everton football clubs, Arena Leisure and SMG Europe.
Johnson said: "It's important the campaign allows people to get under the skin of horseracing through the website and complementary digital channels used by audiences not familiar with an enjoyable racing experience."